Tesla Added by MSCI, US Airways Merger Hits Courtrooms, and 3 More Hot Stocks
Tesla Motors (NASDAQ:TSLA): MSCI said it will be adding Tesla Motors to the MSCI World Index as of August 30. Seeking Alpha notes that the stock has put on substantial gains, which factors in some significant future sales growth. The shares have been giving up some of the gains they made following the August 7 quarterly report, in which the company surprised analysts and investors with a profit.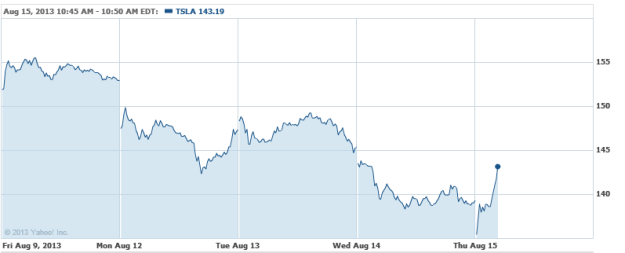 US Airways (NYSE:LCC): AMR Corp.'s (AAMRQ.PK) strategy to exit bankruptcy protection by merging with US Airways appears in court for a hearing Thursday, just two days after the Department of Justice and some states sued in efforts to block the deal. Judge Sean Lane was expected to decide whether or not to approve the merger, though that is no longer the case with the new lawsuit on the table.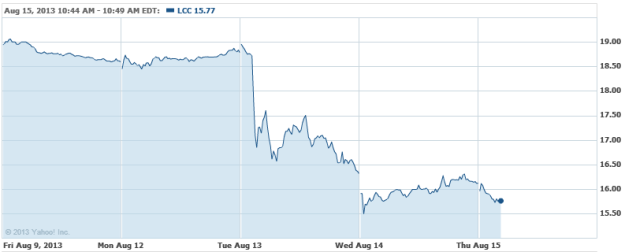 JPMorgan Chase (NYSE:JPM): JPMorgan will likely be fined by numerous regulators as a result of the London Whale trading debacle. The Securities and Exchange Commission, the Department of Justice, the Commodity Futures Trading Commission, and the U.K.'s Financial Conduct Authority are lining up to slap a fine on the bank. Just this week, the Department of Justice  filed criminal charges over the trading loss against two former JPMorgan traders, although not the man directly responsible, Bruno Iksil, who is cooperating with prosecutors.Save Time Make Money! A new stock idea each week for less than the cost of a trade.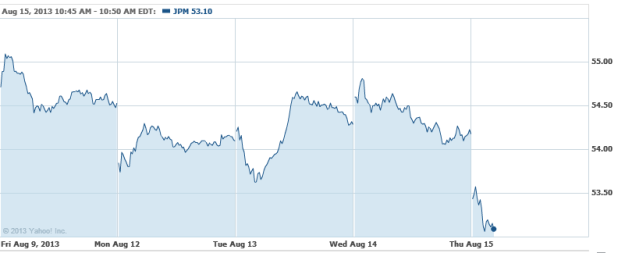 Visa (NYSE:V): U.S. District Court Judge Richard Leon has given the Federal Reserve one week to decide how much time it will need to rewrite the rules on how much merchants can charge retailers for swipe fees on debit cards. Leon didn't offer much leniency on the Fed, telling officials to cut their vacation short if necessary to make it happen. Though subject to appeal, the resulting ruling could have profound impacts on Visa's operations, as well as that of other card services and banks.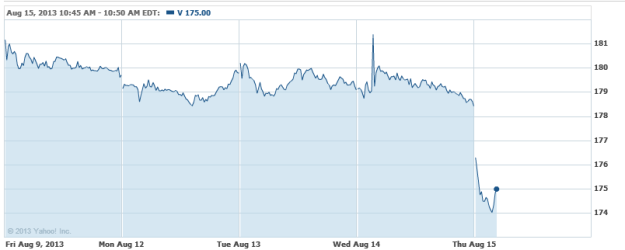 Sirius XM Radio Inc. (NASDAQ:SIRI): Shares of Sirius are trading down slightly as the company announced its purchase of the unit of Agero that offers connected vehicles services to complement its development in the technology. The deal, worth $530 million, is set to close in the fourth quarter. The terms are all cash.

Don't Miss: 9 Most Fuel-Efficient Sedans of 2013.