Tesla Boosts Debt & Equity Offerings and 2 Other Hot Stocks to Watch
Tesla Motors (NASDAQ:TSLA): Current price $89.82
The motor company has increased its debt and equity offerings, as it takes advantage of soaring investor demand to raise over $1 billion in cash. Late Thursday, Tesla upped the size of the convertible bond offering to $600 million, subsequent to increasing it earlier that day to $525 million from a beginning $450 million. Then on Friday, the firm finalized a per share price of $92.24 for the sale of 3.39 million common stock shares. It had initially intended to offer 2.7 million shares.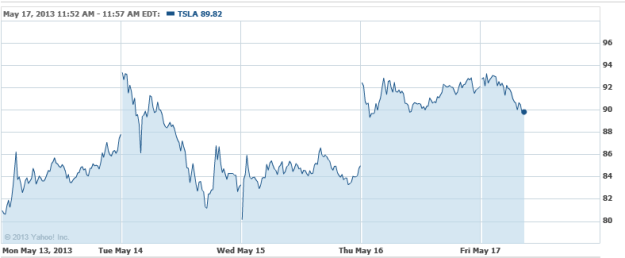 Microsoft Corporation (NASDAQ:MSFT): Current price $34.32
Telefonica announces that it will deploy Microsoft Office 365 and Yammer throughout its operating businesses to employees on a global basis. These technologies form part of a worldwide IT transformation strategy led by group chief information officer at Telefonica Phil Jordan, by which to drive greater simplification, agility and cost reductions, which should reinforce and improve the telecom's core digital capabilities and global presence.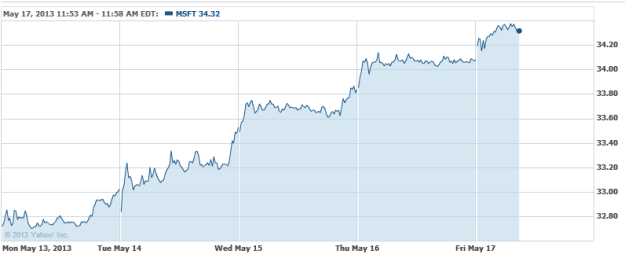 Autodesk (NASDAQ:ADSK): Current price $36.10
Autodesk's first-quarter results missed consensus on sales declines in the Americas and emerging markets, necessitating that the AutoCAD design software maker lower its full-year revenue forecast. Shares fell 5 percent after the bell on Thursday, closing at $39.78 on the Nasdaq. Beyond that, the firm said that it expects revenue to grow by 3 percent in the year ending Jan. 31, 2014, which would be down from the 6 percent it forecast back in February.

Don't Miss: GM Aims For Its Achilles' Heel: Customer Loyalty.