Tesla CEO Lashes Out and 4 Auto Stocks Making Headlines Now
Ford Motor Co. (NYSE:F): Current Price: $13.09
Ford has prepared to react quickly in the case of a rise of demand for diesel-powered vehicles due to its diesel-heavy European lineup, according to the Detroit News. The company will likely stick with its EcoBoost engines as a source of fuel-efficiency gains.

General Motors Company (NYSE:GM): Current Price: $28.65
The company has been working to make the Chevrolet Malibu more appealing to online car shoppers and GM reduced the price of Malibus by almost $800 in hopes of competing with similar and better-selling mid-size sedans. Additionally, Chevy also moved forward with design changes to the Malibu in hopes to generate additional sales, including giving the back seat more space.
Are these stocks a buy or sell? Let us help you decide. Check out our Stock Picker Newsletter now.

Toyota Motor Corporation (NYSE:TM): Current Price: $104.89
Toyota intends to manufacture nearly 3,000 Fortuner SUVs annually in Kazakhstan via local company Saryarka AvtoProm, an initiative set to begin around spring 2014, according to the Nikkei. The majority of the parts are to be shipped from Toyota's Toyota Tsusho factory in Thailand and sold to SAP.

Honda Motor Co., Ltd. (NYSE:HMC): Current Price: $37.89
On Tuesday, Honda Motor Co.'s Indian unit introduced a locally assembled, less expensive version of the CR-V sport-utility vehicle in hopes of improving its sales during a slowdown in the local auto market. The new version is expected to be priced between 2 million rupees, or $37,140, and 2.4 million rupees at showrooms in Delhi. This model will be about 10 to 12 percent cheaper than the imported version that is currently sold in India.

Tesla Motors, Inc. (NASDAQ:TSLA): Current Price: $37.66
Elon Musk, the billionaire CEO of electric car maker Tesla Motors Inc., lashed out at a New York Times reviewer who wrote about terrifying story about trying to take one of the $100,000 vehicles on an extended motor trip. On CNBC on Monday, Musk referred to the review as a "fake" and stated that the reviewer didn't fully charge the Tesla Model S and took a detour during the test.  "NYTimes article about Tesla range in cold is fake," Musk tweeted at a later time.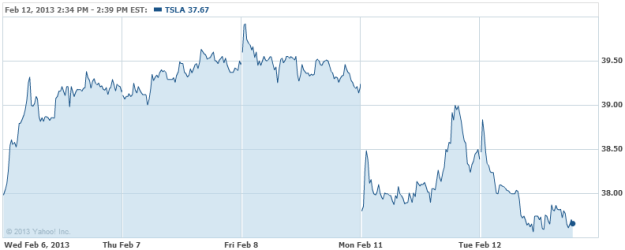 Investing Insights: Is Exelon Likely to Outperform?