Tesla Decides Not to Recall Its Model S Electric Cars and 2 More Heavily Traded Stocks to Follow
Tesla Motors Inc. (NASDAQ:TSLA): Current price $137.67
A knowledgeable source told CNBC Tuesday that Tesla has decided not to recall its Model S electric cars, thus putting the kibosh on speculation that began after the third battery fire incident. On Monday evening, Editor-in-Chief of BGR Jonathan Geller had tweeted that Tesla may be considering recalling its Model S to "strengthen the undercarriage" subsequent to recent fires.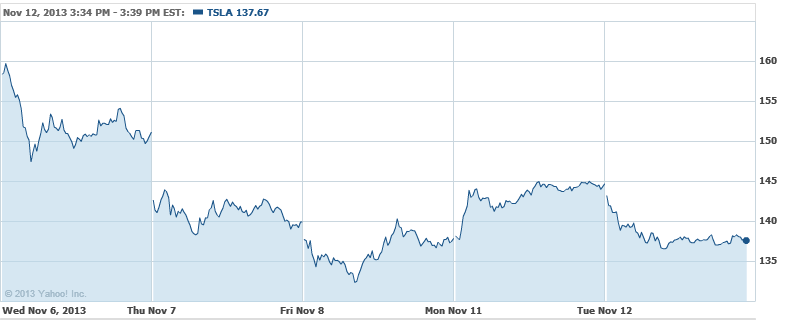 JPMorgan Chase & Co. (NYSE:JPM): Current price $53.92
Although a number of participants in the deal sector are not particularly optimistic regarding a recovery in mergers and acquisitions, JPMorgan Chase's Vice Chair and number one deal broker James B. Lee Jr. sees the situation differently. Lee commented that, "I don't see how that squares with the facts," on the sidelines of DealBook's Opportunities for Tomorrow conference on Tuesday. Skeptics point out that the overall number of announced transactions in 2013 was down by 1 percent as of last week at 30,126 deals, but Lee contended that the number of big deals disclosed this year is the biggest it has been in years.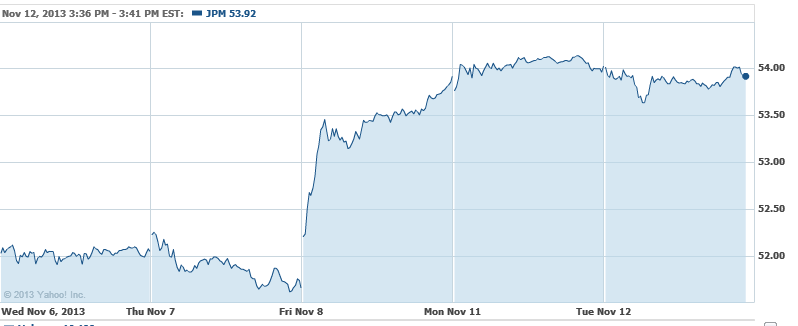 JetBlue Airways Corp. (NASDAQ:JBLU): Current price $8.11
JetBlue has released its preliminary traffic results for October. Traffic rose by 7.1 percent from 2012, on a capacity rise of 10.9 percent. Load factor for October stood at 81.4 percent, marking a drop of 2.9 points from October of 2012. JetBlue's preliminary completion factor was 99.9 percent and its on-time performance was 87 percent. JetBlue's preliminary passenger revenue per available seat mile for October grew by 4 percent year-over-year. For November, that metric is expected to fall between zero and 1 percent from last year.

Don't Miss: Saks Helps Cadillac Boost Its Fashion Image.