Tesla Demos Battery Swap, Boeing and United Share 787 Problems, and 2 More Hot Stocks
Tesla Motors (NASDAQ:TSLA): Investors are responding warmly to Tesla's live presentation of its new battery-swapping system, in which Elon Musk walked the audience through two Tesla Model S battery swaps — in the time that it took one car to fill with gas. The demo certainly showcased Tesla's committement to creative thinking, but at what cost?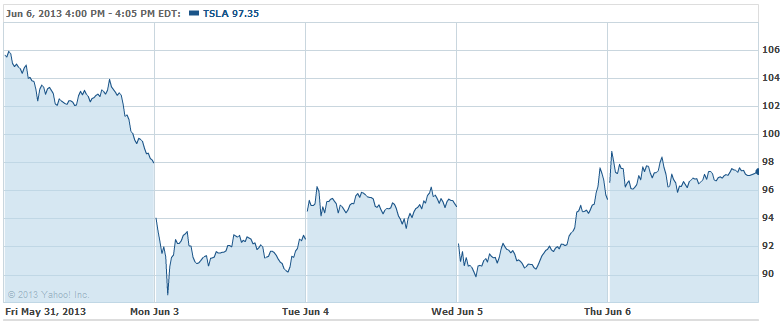 Boeing Co. (NYSE:BA): A low oil indicator on a United Continental (NYSE:UAL) flight from London to Houston was forced to make an unexpected stop in New Jersey, the second oil-related issue on a 787 this week. "We will work with United and General Electric to complete the appropriate maintenance and testing activities, and return the airplane to service," Boeing said in an emailed statement. "This is not related to the issue another United airplane experienced earlier this week."

CarMax Group (NYSE:KMX): An initial spike in premarket trading on Friday has pulled back, despite solid Q1 results from the compan. EPS beat expectations by $0.06 with $0.64, and revenue of $3.31 billion beat by $0.16 billion. Used unit sales at comparable stores rose 17 percent resulting in the company's best gain in several years, and the company says improvements in execution at its store contributed to the strong quarter as well as a more favorable consumer credit atmosphere.

US Airways Group (NYSE:LCC): American Airlines will be allowed to begin flights this fall between Los Angeles and Sao Paulo, Brazil, in the wake of a tentative decision announced on Thursday by the U.S. Department of Transportation. With the 2014 World Cup and 2016 Olympics, flights to Brazil have been made a priority at a number of airlines.

Don't Miss: Can a $200 Million Investment Help Toyota in America?