Tesla Drops After Model S Fire Video and 2 More Heavily Traded Stocks to Follow
Tesla Motors Inc. (NASDAQ:TSLA): Current price $162.86
Shares of Tesla Motors fell by 3.75 percent on Monday after the release of footage of another Model S fire, in Mexico. The crash is said to have occurred October 18 in Mérida, in the northern Yucatan Peninsula. As what happened with the first Model S crash in Washington state, this fire seems to be localized in the front part of the vehicle. When reached for comment, Tesla responded that it was pleased the driver was safe given the nature of the accident.
J.C. Penney & Co. (NYSE:JCP): Current price $7.38
Chief Executive Myron Ullman at a conference, again told investors that the historic retailer's sales trends are improving, and reiterated its forecast for an increase in same-store sales in the third quarter, says Reuters. This marks the third time in under five weeks that Penney's has reaffirmed this forecast, said the report. J.C. Penney shares are up by 8.25 percent near the closing bell in heavy trading.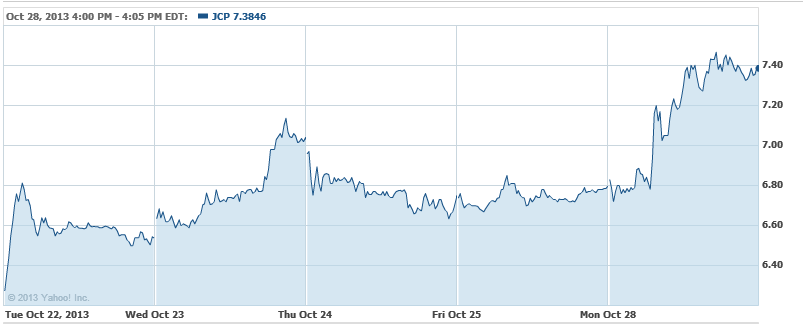 Fusion-io Inc. (NYSE:FIO): Current price $11.08
On Monday, Fusion-io announced new updates to its Fusion ION Data Accelerator all-flash shared storage solution. Having broader high availability, increased performance and scalability, along with simplified sharing and manageability, the new features burnish the appeal of ION Data Accelerator as an optimal flash-based storage consolidation solution for enterprises wishing to add a record-breaking flash performance tier for Oracle and Microsoft SQL Server databases and other mission critical applications.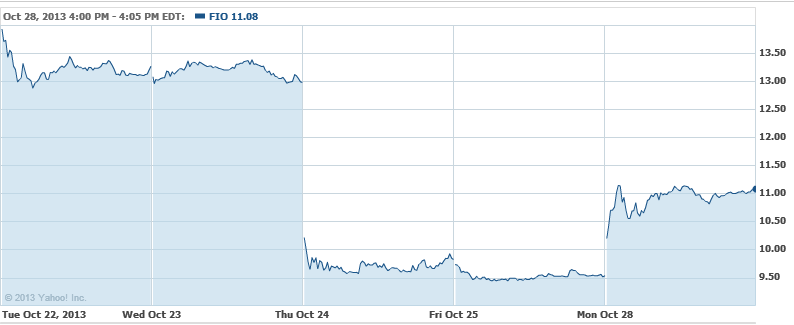 Don't Miss: Driving: No Longer a Teenage Dream?