Tesla Hits a Legal Setback, Coca-Cola Bursts Into Burma, and 3 More Hot Stocks
Tesla Motors (NASDAQ:TSLA): Tesla has lost its court case over its untraditional marketing methods in Texas, where auto dealers succeeded in beating the company's attempts to sell its vehicles straight to the public rather than routed through a dealer network. Automotive News reports that the bills which would have made an exemption to the laws requiring manufacturers to use dealers did not get to either the Texas Senate floor or House floor for a vote, though chances are the fight will come back around when the house is next in session.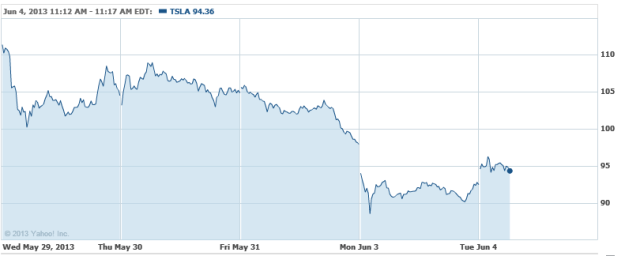 Coca-Cola Co. (NYSE:KO): Coke has opened its first Burmese bottling operation in more than 60 years, one of many international companies to take advantage of the ripe market in light of fallen international sanctions. According to the company, the new soda facility will eventually employ 2,500 people directly, and create 22,000 jobs across its supply chain. The software titan is intending to plug $200 million in investments in the country over the next five years.

News Corp. (NASDAQ:NWSA): News Corp's Fox arm has made an appeal in efforts to stop Dish Network's (NASDAQ:DISH) Autohop, which allows users to conveniently skip advertising, and therefore undermine Fox's ad revenue stream. In its filing, Fox goes so far to say that AutoHop is an "unprecedented threat" to the ad-supported TV model. Lawyers on behalf of the broadcaster are arguing that the system infringes on Fox's copyrights, and breach Dish's license agreement with the company.

Lululemon Athletica (NASDAQ:LULU): The "sheergate" scandal that resulted in a recall of roughly 17 percent of Lululemon's pant inventory may have actually been beneficial for the company, as customers are reportedly flocking back to stores and acting on 'pent-up' demand when the beloved yoga pants were taken off the shelves due to certain transparency issues. Store traffic at Lululemon stores has already picked up, and it appears the retailer's premium pricing structure is still in place.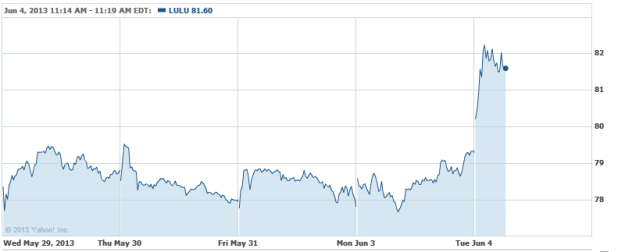 Agrium Inc. (NYSE:AGU): The company is putting off the construction of a $3 billion facility in the midwest, in order to put a larger focus on finding a partner to help shoulder the cost. The company also attributes the decision to competing projects by a number of rivals as well as the uncertainty of long-term natural gas costs, as it is also suspending plans for a nitrogen plant in Redwater, Alberta.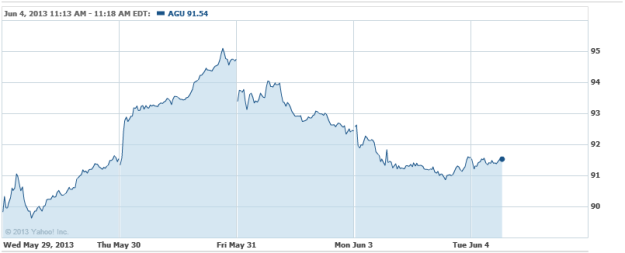 Don't Miss: 10 Top Cars To Consider For Your Freshly Licensed Teen.