Tesla Motors (NASDAQ:TSLA): Tesla is reporting that an incident at its Fremont, California, factory on Wednesday will not have material effects on production. The incident occurred when some heated metal burned three workers at the plant; one employee was seriously injured and two sustained minor injuries after a low-pressure aluminum press failed. The Fremont Fire Department confirmed that there was no fire or explosion in the plant, and that the incident was being considered an industrial accident. CEO Elon Musk visited the workers personally to "make sure they're OK and getting the best possible care."

Lockheed Martin (NYSE:LMT): In an "effort to increase efficiency … and improve the affordability of products and services," Lockheed Martin will be axing some 4,000 jobs and shuttering its operations in Newtown, Pennsylvania; Akron, Ohio; Goodyear, Arizona; and Horizon City, Texas, along with four buildings at the Sunnyvale, California, campus. Though Lockheed describes the decisions as being "difficult," its says that "government budget cuts and an increasingly complex global security landscape" led the process.

Yum Brands (NYSE:YUM): Scientists have confirmed that a woman in Taiwan has been infected with H6N1 bird flu, a new strain, which has sparked some concern in the area — as well as with investors of Yum Brands, one of the more vulnerable stocks to avian flu news, specifically in Asia.

Herbalife Ltd. (NYSE:HLF): A recent filing indicates that Richard Perry has taken up a position in Herbalife amounting to more than 2.6 million shares, valued at around $180 million.

Costco Wholesale Corp. (NASDAQ:COST): Costco will be opening 15 new locations in France over the next 10 years in the company's debut in the country. The first store, which will open its doors in a suburb of Paris, should come online in spring 2015; Costco already has 25 stores in the United Kingdom.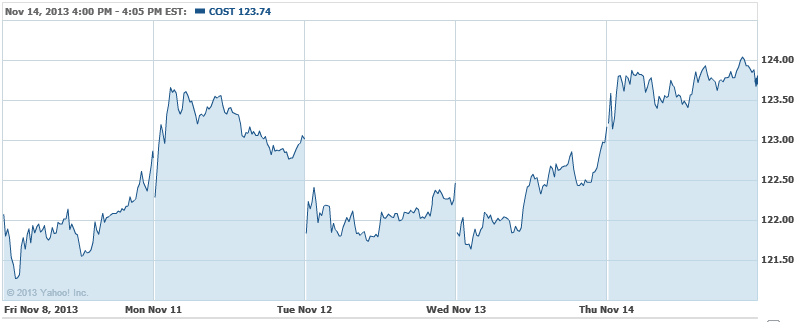 Don't Miss: Tesla Gets Burned Again With Hot Metal Spill.