Tesla Is Talking Pickup Trucks, Netflix's New Menu, and 3 More Hot Stocks
Tesla Motors (NASDAQ:TSLA): Shares are back up more than 3 percent after CEO Elon Musk said that Tesla — maker of luxury electric vehicles — is going to have a go at an electric pickup truck. The truck, which is intended to be built in five years or so, will likely be the same type of vehicle as Ford's F-Series pickup trucks; while range could pose an issue (as it always does), the electric powertrain offers a tremendous amount of torque, which is a key factor when towing or hauling.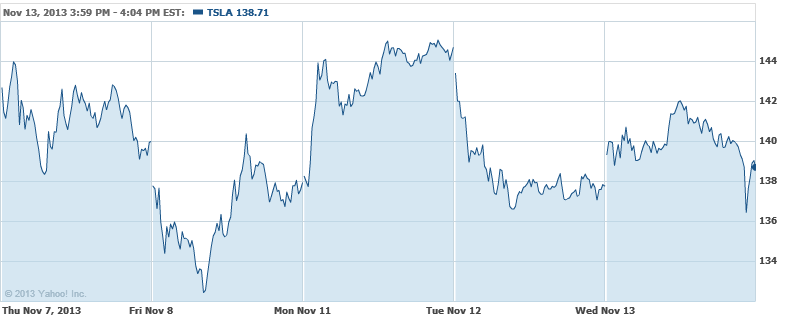 Netflix Inc. (NASDAQ:NFLX): In what is being dubbed "the biggest change to the Netflix experience on TV in the company's history," Netflix has launched a new menu for its streaming service, which will offer up more details about the automated recommendations that the firm's formula unearths for each user.

Juniper Networks (NYSE:JNPR): Juniper has appointed Shaygan Kheradpir, who is currently Barclays's chief operations and technology officer (and was once Verizon's chief information and technology officer), to become its next CEO, effective on January 1. Kevin Johnson, currently Juniper's CEO,  announced in July that he would retire once a successor is found; he will remain on the company's board after the switch.

Galena Biopharma (NASDAQ:GALE): Galena shares are soaring more than 10 percent in heavy volume on Wednesday after Monday's release of the Phase 1 FBP vaccine data. Galena's vaccine was considered to be "safe and immunogenic" and was "administered to HLA A2 positive patients … as an adjuvant treatment to prevent recurrences in high-risk, endometrial and ovarian cancer patients rendered disease-free after completing standard of care therapy."

PetroChina Co. (NYSE:PTR): PetroBras (NYSE:PBR) will sell its Peruvian unit to PetroChina for for $2.6 billion, as the former continues to sell its foreign assets to focus on developing the massive deposits discovered off Brazil's Atlantic coast. PetroChina will take in three oil and gas fields in Peru, which currently produce about 800,000 metric tons oil equivalent per year.

Don't Miss: 8 New Cars Coming to Thrill You in 2014.