Tesla Motors Hits New Highs, Zynga's Big Hire, and 3 More Hot Stocks
Tesla Motors (NASDAQ:TSLA): Tesla shares hit all-time highs for the second day in a row, still riding on the bullish note from Jefferies. While the industry is watching the sales data starting to trickle from the major players, Tesla has been focused on getting the 100,000 signatures needed to petition the Obama administration to allow the company to sell its products directly to the public. The company needs 4,000 or so more before this coming Friday.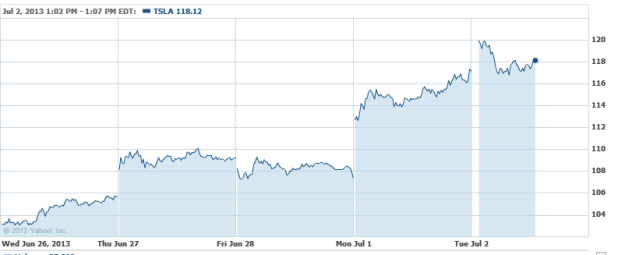 Zynga (NASDAQ:ZNGA): Still buoyed by the news that Microsoft's (NASDAQ:MSFT) Xbox division leader Don Mattrick will be taking up a high-profile position at Zynga, investors are packing on significant share gains for the second day in a row. Jim Cramer weighed in, noting that "[$1.6 billion] in cash for a [$2.4 billion] market cap with a new ceo – that seems pretty hopeful. I am mindful about how well GRPN did after sacking Mason." Fast Company points out that Mattrick was "the force behind The Sims" at Electronic Arts, and championed the Kinect at Microsoft.

Goldman Sachs (NYSE:GS): David Ryan, President of Goldman Asia with the exception of Japan, has resigned. He will be replaced by Ken Hitchner, a New York banker coming from a background in healthcare deals. Goldman is still the number one bank in Asia for share sales, but has slide to fourth place in merger and acquisition activities.

Vivus (NASDAQ:VVUS): To counter efforts made by activist firm First Manhattan, Vivus has issued a letter to its shareholders urging them to vote in favor of the current board of directors. The company contends that First Manhattan's plan for the company is "woefully short on details" and contains the same ideas Vivus is already implementing.

Don't Miss: Case Closed: Ford Is Writing to Taurus and Mercury Sable Owners.