Tesla Petition Nears 100,000 Signatures and 2 More Heavily Traded Stocks to Follow
Tesla Motors (NASDAQ:TSLA): Current price $117.82
Tesla's petition to sell directly to customers is getting close to 100,000 votes, as its shares spiked Tuesday morning. Recently, Tesla has been attacked by car dealer associations in New York, North Carolina and other states, because it does not have a dealer network, selling directly to its customers, and has stores across the United States. The novel retail strategy was created in part by George Blankenship, who assisted in the development of Apple's retail stores.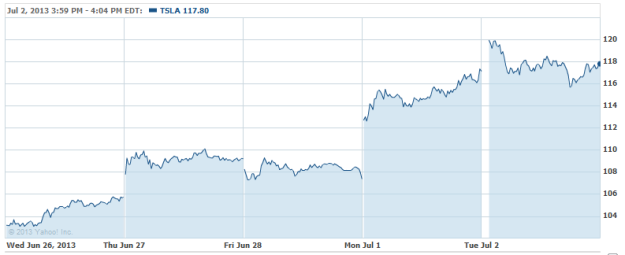 Groupon (NASDAQ:GRPN): Current price $8.95
Groupon has announced Groupon Reserve, a premiere destination for the finest things to see, eat, do and purchase. Being introduced on Reserve is Savored.com's reservations engine, that permits customers to book tables at some of the best restaurants in their city at discounts that run as high as 40 percent. In the future, Reserve will also offer premium deals and experiences from the top product, beauty, travel and entertainment brands, together with similar reservations capabilities for spas, salons and hotels. The Reserve reservation platform allows customers a discount off their entire check without the need of pre-payment or vouchers, and supplies local businesses with an important tool with which to drive traffic during slow periods by using flexible pricing.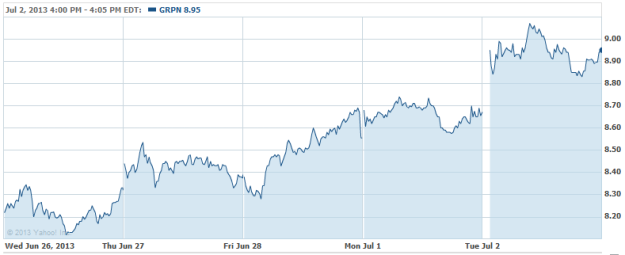 Achillion Pharmaceuticals (NASDAQ:ACHN): Current price $6.2
The analyst firm Leerink Swann perceives the clinical hold placed on Achillion's hepatitis-C drug sovaprevir as primarily a drug-drug interaction matter instead of a safety fear. The firm thinks the situation appears resolvable, and thus maintains an Outperform on Achillion shares with a $14 price target. However, the shares were downgraded from Buy to Hold at Maxim on Tuesday, and they are down over 25 percent in late afternoon trading.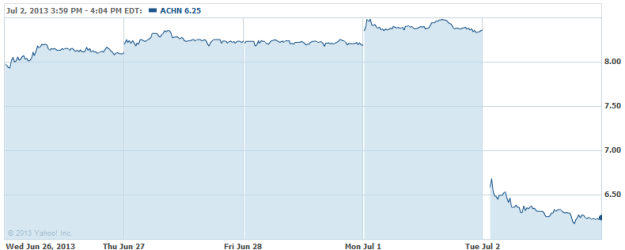 Don't Miss: Chevrolet's New Ad Campaign Aims at the Heart of Pickup Buyers.