Tesla Reaches Target Production and 4 Auto Stocks Making Headlines Now
Ford Motor Co. (NYSE:F): Current Price: $13.99
Companies like Ford and GM found a quicker path to improved fuel efficiency, which reinvents the manner in which traditional gas-powered cars are built. They have been cutting weight via the substitution of more plastics, aluminum, and magnesium, which includes materials that were once found only in high-end race cars, according to the Wall Street Journal.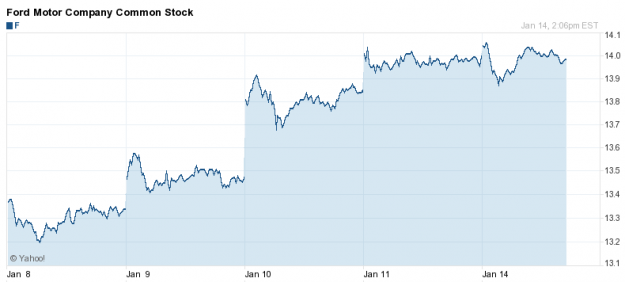 Start 2013 better than ever by saving time and making money with your Limited Time Offer for our highly-acclaimed Stock Picker Newsletter. Click here for our fresh Feature Stock Pick now!
General Motors Company (NYSE:GM): Current Price: $30.28
It has been almost a decade since the launch of the sixth-generation Chevrolet Corvette, and now, GM has revealed its official successor, which is the muscular, carbon fiber-enhanced Stingray. At a press event at the North American International Auto Show in Detroit, GM exec Mark Reuss stated that the Stingray apellation, which was first used on a 1950s Corvette racer, was a good fit for the seventh-generation Corvette.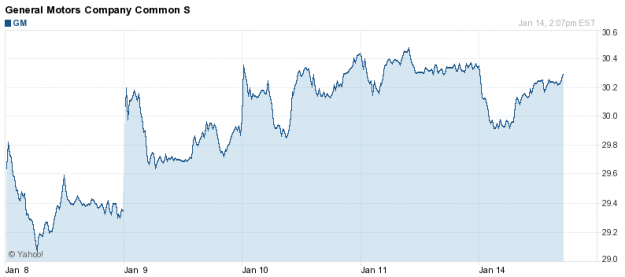 Toyota Motor Corporation (NYSE:TM): Current Price: $96.98
Toyota sold about 9.7 million vehicles during 2012, which beats GM's (NYSE:GM) 9.29 million units and Volkswagen's (VLKAY) 9.07 million. The Japanese automaker intends to sell 9.91 million vehicles during the year.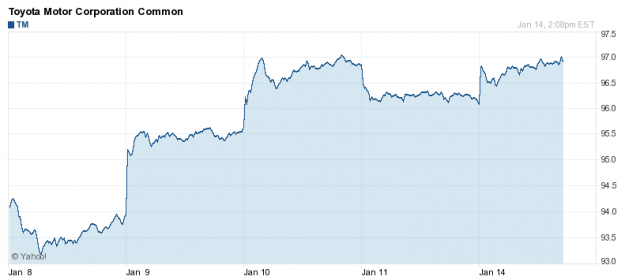 Honda Motor Co., Ltd. (NYSE:HMC): Current Price: $38.62
Honda Motor Co. (7267) has begun to target record sales for the U.S. during the year, and this supported by revamped Accord and Civic models and building on a 24 percent rebound during 2012. Honda's best year in the U.S. was 1.55 million Honda and Acura vehicles in 2007, Tetsuo Iwamura, the automaker's executive vice president, claimed in Detroit.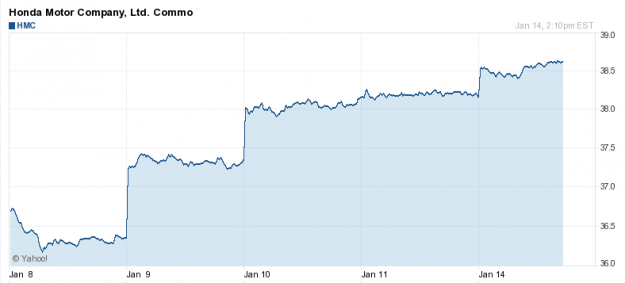 Tesla Motors, Inc. (NASDAQ:TSLA): Current Price: $33.13
Tesla Motors makes the Model S electric sedan, and it intends to earn its first profit later in the year along with launching a cheaper electric vehicle within three to four years, stated Chief Executive Elon Musk. The 10-year-old electric car maker reached its target production rate for the Model S of 20,000 a year, and it has intentions to launch the Model X, which is a luxury crossover built on the Model S platform, during the second half of 2014, he stated.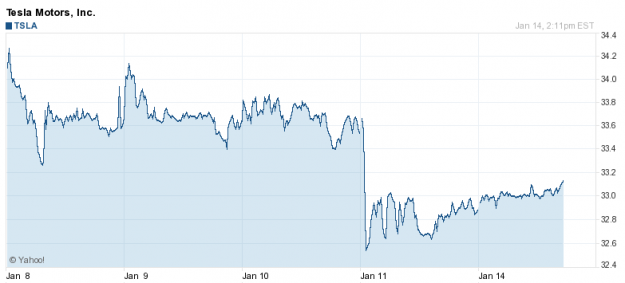 Don't Miss: Detroit Auto Show Kicks Off: GM's New Corvette Steals the Spotlight.