Tesla Rides a New Upgrade, BioScrip Buys CarePoint, and 3 More Hot Stocks
Tesla Motors (NASDAQ:TSLA): Global equities has initiated coverage of the car maker, with a hefty Overweight rating and a $150 price target. The firm believes that Tesla is creating a new industry called Transport-as-a-Service, which it estimates could become a $100 billion market, with Tesla snagging a healthy 60 percent share.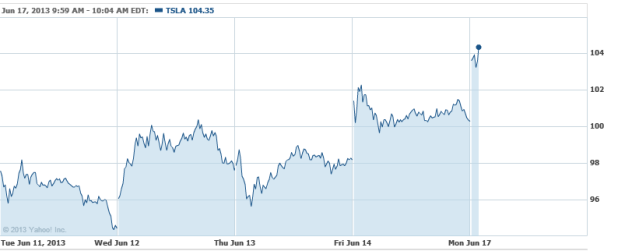 BioScrip, Inc. (NASDAQ:BIOS): The company has agreed to purchase its fellow home-infusion company CarePoint Partners for $223 million in cash — but on a net basis, $178 million after a $45 million future tax benefit that's related to the deal is accounted for. CarePoint is expected to generate $160 million or so in annual revenues, and will give BioScrip another 20,500 patients a year for a total of 100,000 patients.

Johnson & Johnson (NYSE:JNJ): The healthcare giant will be buying the privately-held Argon Pharmaceuticals for $650 million, which is currently carrying out Phase II trials for its prostate cancer drug ARN-509. Aragon's breast cancer drug, still in its experimental phases, will not be included but instead spun off as Seragon Pharmaceuticals. In addition to the $650 million upfront, Aragon will also receive milestone payments of $350 million.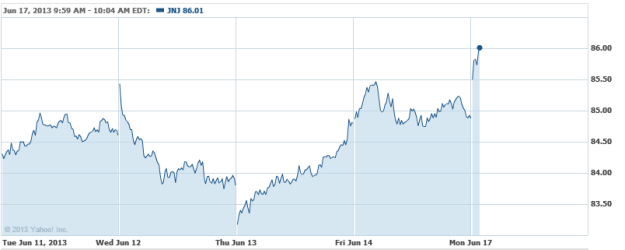 Carrizo Oil & Gas, Inc. (NASDAQ:CRZO): Shares are up nearly 4 percent after the company increased its second quarter guidance to 10,800-11,200 barrels per day from 9,600-10,000 barrels per day, due to strong Eagle Ford shale performance. The company also expanded its full-year 2013 crude oil production growth target to 40 percent from 28 percent, with full-year capex plan now slated for $530-$540 million, up from $500 million.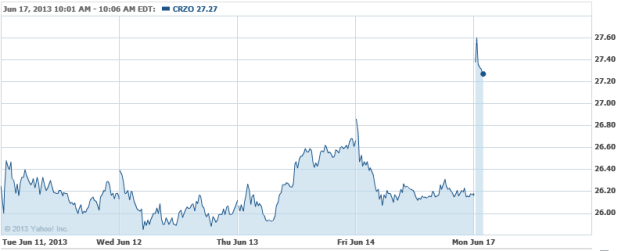 Amicus Therapeutics, Inc. (NASDAQ:FOLD): Shares of Amicus have cratered following a conference call, where the company outlined its plans for the regulatory strategy of its Fabry disease treatment, migalastat HCL. Amicus says it plans to incorporate information from three trials in an NDA. An FDA meeting to discuss Fabry Monotherapy's approval pathway is now expected in the second half of 2014.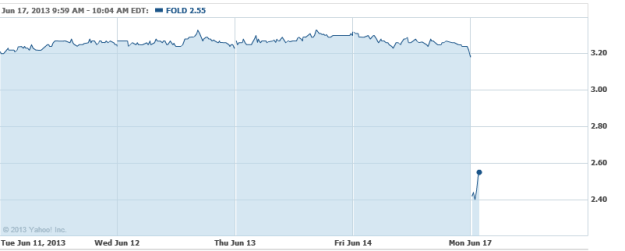 Don't Miss: Will GM's New Recall Affect Consumer Views?