Tesla Seeks More Battery Suppliers, Siemens's Big Turbine Order, and 3 More Hot Stocks
Tesla Motors (NASDAQ:TSLA): Tesla is apparently in negotiations with South Korean firms LG Chem and Samsung SDI to help supply it with the needed batteries for its cars, though Tesla Vice President of Investor Relations Jeff Evanston acknowledged that it would take "several years" before other companies — in addition to Panasonic, Tesla's current supplier — were qualified to supply batteries. The news comes shortly after Tesla expanded its agreement with Panasonic.

Siemens AG (NYSE:SI): Siemens has landed a $2.97 billion order to outfit Danish energy firm Dong Energy A/S with 97 wind turbines, with Siemens being responsible for service and upkeep of all the turbines at Dong's wind parks for five years. The construction is set to begin in the first half of 2015; the total capacity of the projects is 582 MW, or enough to power 600,000 German households.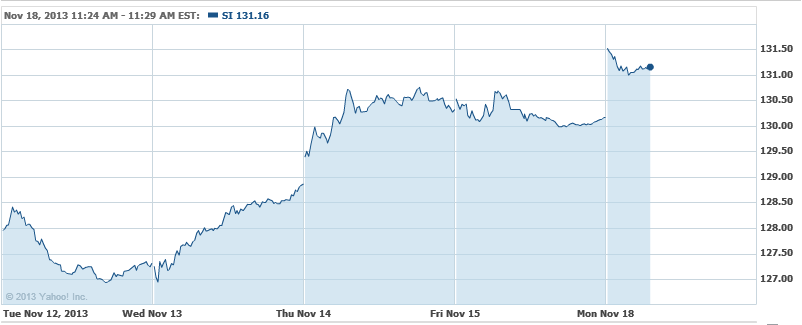 Ann Inc. (NYSE:ANN): Shares of Ann Inc. are trading around flat despite a firm downgrade to Sell from Goldman Sachs based on the bank's concerns of weak store traffic during the fourth quarter. Goldman slapped a $29 price target on the shares, though investors seem somewhat unfazed.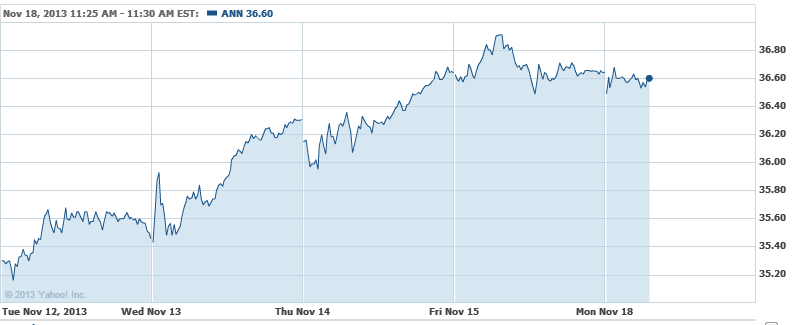 IntercontinentalExchange Inc. (NYSE:ICE): JPMorgan and BMO Capital have each brought their ratings on InterContinental to Buy after the completion of the closing of the NYSE Euronext transaction. "Cost synergies related to the NYX integration provide built-in earnings growth with a relatively low execution risk," BMO says, adding that it "expect[s] ICE will have one of the best growth profiles of any company under coverage over the next five years, justifying its premium valuation."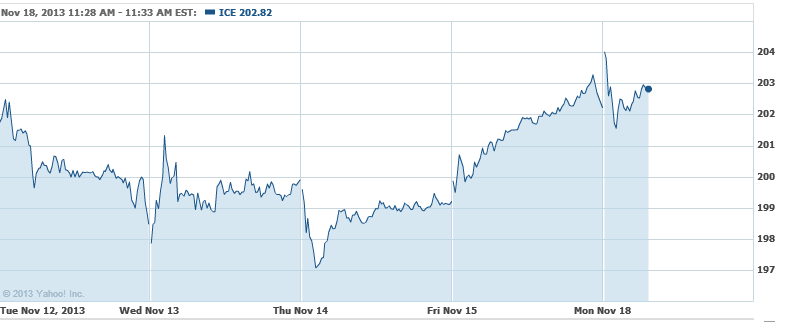 McDonald's Corp. (NYSE:MCD): The Restaurant Finance Monitor reports that McDonald's will be putting more attention toward the speed at which it delivers its food to customers and that the company has plans to invest in new kitchen improvements next year after new product innovations yielded service issues that executives admit have dented McDonald's top-line results.

Don't Miss: Tesla Who? The Detroit 3 Rise in California.