Tesla Shares Touch New All Time High and 2 Other Hot Stocks to Watch
Tesla Motor Co. Inc. (NASDAQ:TSLA): Current price $183.05
On Friday morning, Tesla shares touched the new all time high of $185.83 before pulling back modestly. Thus far, the stock is up by an eye-popping 441 percent in 2013, jumping Thursday after analyst Dan Galves at Deutsche Bank raised his price target from $160 to $200.
Galves commented in part that, "Based on conversations with management and monitoring information available on Tesla owners' blogs, we believe that the company is on-track to modestly outperform third quarter margin expectations, that demand has continued to grow in the US and Europe (despite substantial option pricing increases in effect as of late July), and that the production rate at Tesla's factory has continued to increase."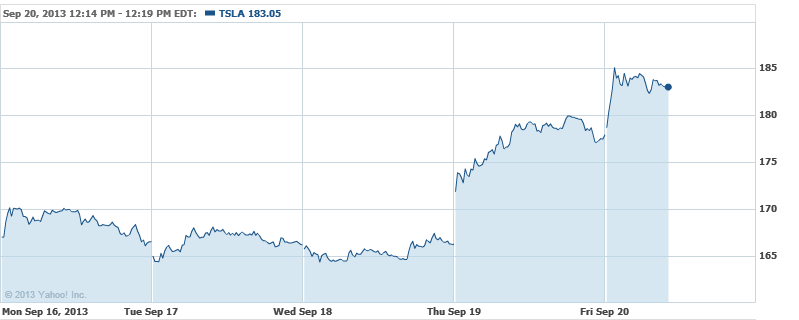 BlackBerry Ltd. (NASDAQ:BBRY): Current price $10.24
As BlackBerry's inventory of unsold smartphones nears the $1 billion mark, observers are raising the likelihood that the smartphone maker will implement its fourth writedown in two years when it reports earnings next week. In the second quarter, BlackBerry posted a 47-percent rise in the value of its inventory, which brought the number to $887 million, representing the largest increase among more than 75 of its peers, indicated data compiled by Bloomberg.
Brian Huen, who tracks the firm as a managing partner at Red Sky Capital Management, believes the amount could rise again in the third quarter as sales stall. In August, BlackBerry said that it was open to takeover offers, affecting already weak sales, because customers are more leery about the firm's future, according to Huen.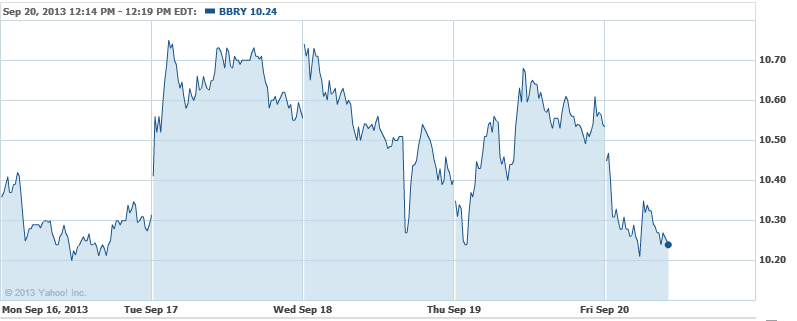 Himax Technologies Inc. (NASDAQ:HIMX): Current price $10.85
This week, Chardan Capital Markets held a meeting with the LCD producer Himax in New York, and are now convinced Himax is on track to produce LCoS Microdisplays, to prepare for the Google Glasses intro next year. Analyst Jay Srivatsa increased his price target to $12 and re-iterated a Buy. Himax shares are up nearly 8 percent Friday in high volume.
Srivatsa remarked in part that, "It appears that Google is well on its way to prepare for a launch of its Glasses and has prompted HIMX to begin production ramp of its LCoS Microdisplays that will feature in every single Glass. We believe Google could potentially introduce its product into the market in the first quarter, and not in Christmas 2013, as has been widely speculated. We also believe Google may be introducing more than one model of Glass upon launch in the first quarter catering to those who require prescription glasses as well."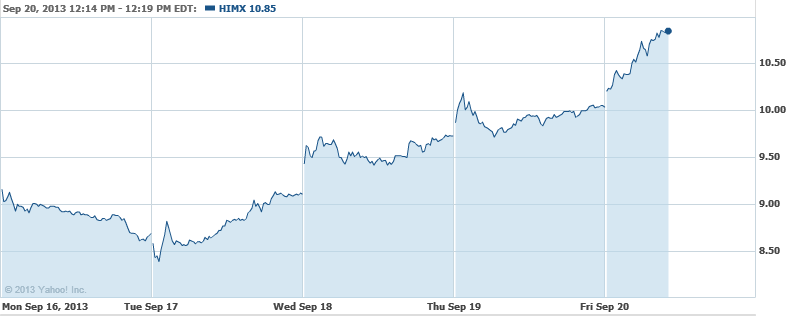 Don't Miss: Here's Why Ford Romania Is Taking a 13-Day Vacation in October.