Tesla Turns Its Bears, Goodyear Soars on Cooper Purchase, and 3 More Hot Stocks
Tesla Motors (NASDAQ:TSLA): R.W. Baird has raised its price target on Tesla to $118, as the firm turns its attention to the upcoming Model X and Gen III model that the company has been hinting at. Baird also points out that the price target only factors in moderate share price appreciation over the next few years.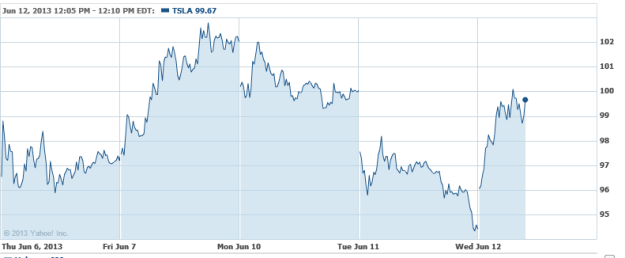 Goodyear Tire & Rubber Co. (NYSE:GT): Shares of Goodyear are up a health 3.9 percent, following the announcement that Apollo Tyres has acquired Cooper Tire & Rubber (NYSE:CTB). At $2.5 billion in all cash — about $35 per share — the significnat premium has given the whole sector a boost.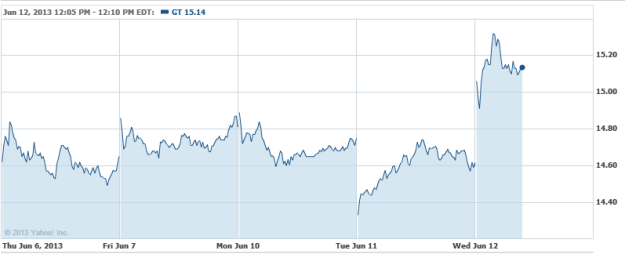 Boston Beer Co. (NYSE:SAM): Citi Research says that Boston Beer has increased its sales by 40 percent over a four-week trading period, attributed to some successful seasonal specials. Higher promotional spending and attractive pricing helped beer sales race by 18 percent in dollar terms.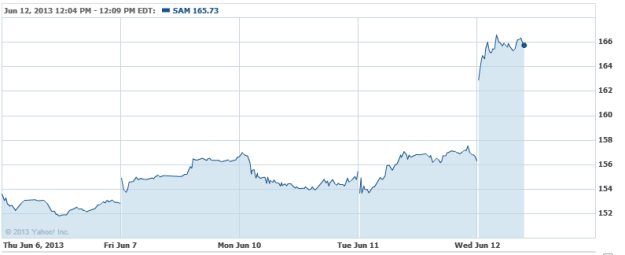 Hewlett-Packard (NYSE:HPQ): CEO Meg Whitman took an interview with AllThingsD to flaunt the management changed that have taken place at the troubled PC maker since she took over, eight months ago. "When I came in, 65 percent of our directors and above were outside hires. Now it's the reverse," she said. Whitman pointed out that margins for tablets and hybrids "aren't as good" as PC margins, but nonetheless makes the argument that higher peripherals and services attach rates make up for the deficit.

Pandora Media (NYSE:P): Pandora is taking initiatives to get its royalty rates lower, in order to expand its margins and keep its edge for when iTunes Radio hits the market. However, it's doing so in a rather creative manner: through the purchase of a small-market terrestrial radio station in South Dakota. Reportedly, Pandora acquired the station in an attempt to take advantage of the performance royalty fees available to broadcast radio stations and Internet radio services operated by owners of broadcast radio stations.

Don't Miss: Lincoln's Strategic Second Installment Aims at the Crossover.