Tesla's Expansion Plans Are Not Enough for Some Analysts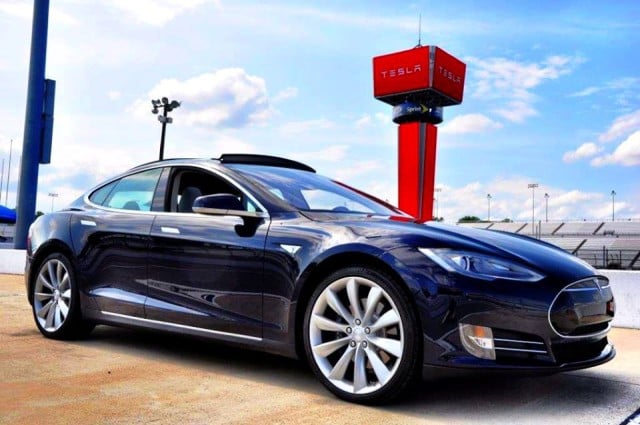 To make sense of success, failure, genius, or any number of human conditions, people often turn to making comparisons.
Tesla's (NASDAQ:TSLA) surprising second-quarter results — which showed the company had blown past Wall Street's earnings estimate and posted an unexpected profit on the back of record Model S deliveries — have put the electric vehicle company and its CEO and co-founder, Elon Musk, under Wall Street's microscopic lens. As a result, Musk is now drawing comparisons to technological and automotive greats of the past, namely Henry Ford and Steve Jobs.
In an article called "Echoes of Steve Jobs in Elon Musk," The New York Times's Antony Currie argued that the Tesla chief executive has begun to exude hints of Steve Jobs, the late chief executive of Apple. "Like Mr. Jobs, Mr. Musk, the boss of Tesla Motors, crafts an impressive product," he writes. "Now, he's gaining a reputation for beating earnings estimates."
Yet Currie did highlight one difference between the two men: while investors seemed to fear that Jobs would lose his edge, they have continued to assume that Musk will only get sharper. It is true that shares have advanced rapidly in 2013, gaining more than 330 percent this year to date. But contrary to Currie's assessment, some analysts are concerned that Tesla is overvalued. Currently, it is worth 35 times estimated 2016 earnings.
"The bull argument for the stock could be that the CEO, Elon Musk, is the next Henry Ford – i.e., mass market success would be assured," Barclays analyst Brian Johnson told Reuters last week. But Forbes's Michael Lynch argued that mass market success is unlikely. "There is no sign that electric vehicles will be anything more than another niche product for the wealthy until the problems of cost, range, and recharging speed are solved."
While the cost of the Model S is prohibitive, Tesla posted second-quarter net income of $26.3 million, an increase of 70 percent from the first quarter and a gain that was driven by record Model S deliveries. That Tesla's luxury electric vehicle — the Model S Sedan — has become popular with the affluent and the environmentally conscious is clear from the numbers. The company sold 5,150 Model S vehicles in the second quarter, or approximately 1,700 per month, a figure comparable to the sales of its top plug-in rivals: the Nissan (NSANY.PK) Leaf and General Motors's (NYSE:GM) Chevy Volt. The comparable sales came despite the fact that the cheapest Model S comes with a price tag of $69,900. Tesla even sells a number of vehicles with better options that cost at least twice as much as Volt or the Leaf.
Tesla is also working on addressing the problems of cost, range, and recharging speed. Industry speculation expects a $35,000, 200-mile range mass-market vehicle to be ready sometime in the near future, and the company said it is on track to produce 21,000 cars with a 265-mile range by the end of this year. At 265 miles, the range of the Model S is more than three times that of a Leaf, according to Technology Review.
The company is not only working to ramp up production but to make electric cars more practical by building a nationwide network of charging stations that can deliver 200 miles of charge in about half an hour, which compares to the several hours it takes to charge an electric car at an ordinary station. Additionally, to support the growing number of Tesla vehicles on the road, a network of service centers is critical. As the Silicon Valley Business Journal reported Friday, the electric vehicle maker has submitted for permits to build out a 11,000-square-foot center, currently inhabited by a Honda-owned (NYSE:HMC) Acura service center, in Sunnyvale, California.
Shanna Hendricks, a company spokeswoman, told the publication via email that the new location will be opened by the end of the year. "As we deliver cars it's important to have service conveniently located for our customers," she said. Tesla's website has "Coming soon" logos for a total of six locations in the state.
Nevertheless, some analysts are arguing the bearish case. Lazard Capital Markets's Aditya Satghar downgraded the company's shares from Buy to Neutral on Monday. "We believe the current share price fully captures Tesla's evolution into one of the most profitable luxury auto manufacturers, with sustained annual volumes and margins similar to Porsche's," the analyst wrote, via Barron's, staying away from lofty comparisons. "Meaningful upside from current levels will require domestic manufacturing in China and record sales of Gen 3 on launch." Shares fell as much as 4 percent on the downgrade.
Follow Meghan on Twitter @MFoley_WSCS
Don't Miss: Can Honda Save This Dying Relic of American Tradition?