Tesla's Model S Is Now Up for Grabs in China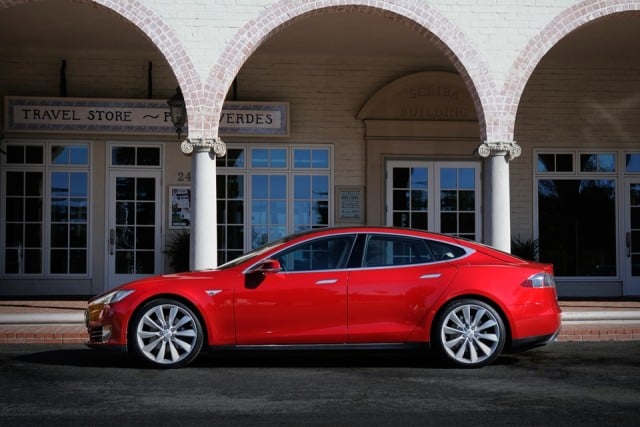 Tesla Motors (NASDAQ:TSLA) has been slowly and surely gaining traction here in the domestic market, but its international reach is still somewhat meager, or nonexistent. The company is now hoping to change that, and is gearing up for its grand debut in the world's largest automotive market.
Tesla has gotten somewhat bogged down in China, contending with everything ranging from bureaucratic red tape to patent trolls. However, the car's order form on its Chinese website — Tuosule.cn, the patent trolls, remember – is now live and taking reservations, opening the upstart electric car maker up to one of the largest consumers of luxury vehicles. "I think the China story is a huge one," Matthew Argersinger, who is a senior analyst at The Motley Fool, told CNBC. Tesla is "going to sell 10,000 to 20,000 beginning in a couple years, and that's a huge incremental increase in production."
This is owed partially to China's love affair with luxury, but also due to the fact that China's rampant smog and pollution issues will play out well in Tesla's favor, were the government to launch electric vehicle incentive efforts to help curb the issue.
While the Model S costs about $5,000 to reserve here in the states, the price abroad is much higher: Chinese consumers will have to plunk down some $41,000 for the same privilege. Reservations are also live for the Model X SUV, as well. This is largely due to the large taxes placed on the vehicles by China, which could inflate the price of the Model S to about $145,000 — about double the base price of the car here in the States. However, CNBC is keen to note that this factor will likely pose little to no obstruction for China's wealthy elite, as China makes for the largest luxury vehicle market in the world.
CEO Elon Musk says that he thinks Tesla "could eventually sell 10,000 a year in Europe and 5,000 in Asia," and since the company is aiming to sell 21,000 or so units this year, those numbers are not insignificant. Upon landing in China, the Model S will be met by growing expansion efforts from Audi, BMW, and Mercedes, all of which are battling for a bigger piece of China's luxury car pie.
On the subject of pollution, the increasingly dire air quality situation in the region means Tesla's products may be an ideal fit when the government decides to act on the rampant emissions issues. "Although electric car demand in China has been lackluster (and that's being kind), another factor helping Tesla is the smog and pollution that choke Beijing and Shanghai," CNBC says. "They signal that China will not wait much longer to push electric cars in a big way. The Chinese would prefer to see locally built e-vehicles, but –make no mistake — Tesla will benefit."
Don't Miss: The 7 Automobiles With Spotless Driver Safety Records.