Tesla's Potentially Valuable Patent, Mixed News for Boeing, and 3 More Hot Stocks
Tesla Motors (NASDAQ:TSLA): Global Equities analyst Trip Chowdhry believes that a patent submitted by Tesla Motors for a hybrid battery pack could increase the range of Tesla vehicles by as much as 40 percent if it ends up being developed and implemented. Chowdhry thinks the new pack could make it into the company's Model S sedan by mid-2015.

Boeing Co. (NYSE:BA): It's a mixed morning for Boeing, though the stock is siding with positive news: Boeing is nearing a $7.6 billion deal with South Korea for new fighter aircraft. Boeing's proposal was the only one submitted that fell within Korea's budget constraints. Separately, Norwegian Air has experienced further problems with its 787 planes, as a fault with a hydraulic pump resulted in a weight limitation on a flight from New York and forced the airline to leave 70 passengers behind.

GlaxoSmithKline (NYSE:GSK): The Food and Drug Administration has granted a priority review for GlaxoSmithkline's Tafinlar and Mekinist combination treatment for melanoma, specifically the type that cannot be removed by surgery or that has spread. Though the drugs have each been approved for separate uses, Glaxo believes the two can produce a longer-lasting effect if given in tandem. The target date for the FDA is January 8.

Northern Dynasty Minerals (AMEX:NAK): Following Anglo American's decision to withdraw from a joint venture with Northern Dynasty, the latter's shares are forming a near 40 percent crater; CEO Ron Thiessen says Northern still plans to begin the permitting application process for the project by the end of the year despite the pullout. He adds that Anglo's decision was due to its desire to re-prioritize its project pipeline rather than any concern about the project.

Telecom Italia S.P.A. (NYSE:TI): Citigroup has dropped its rating on Telecom Italia to Sell from Neutral and lowered its price target for the Milan-traded shares to 0.5 euros, as it believes that the company's only way out of a capital raise is the divestment of its TIM Brasil operations, which the company already ruled out in July.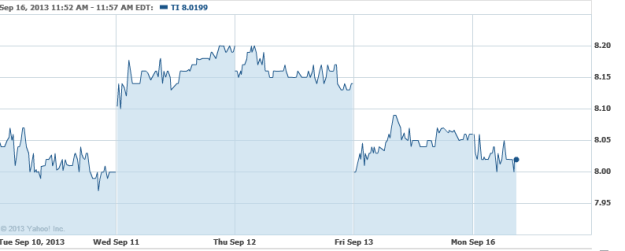 Don't Miss: Obama: Republicans 'Not Serious' About Negotiating Budget.