Tesla's Stock Supercharges Over First Profit and 4 Other Hot Stocks
Tesla Motors (NASDAQ:TSLA) has had a great couple of days. The Silicon Valley electric car maker posted a first quarter profit, the first in the company's history. Additionally, it beat its own guidance of 4,500 vehicles, and delivered 4,750 of its Model S sedans. Tesla shares fired up and surged 16 percent on Monday. The company's estimates and purchase orders were raised for the next quarter as a result. Investors are also anticipating another big announcement on Tuesday, from a mysterious tweet from founder and CEO Elon Musk who promised that this announcement would be bigger than the quarterly results. Additionally, the company dropped its cheapest car option, with a 40 kWh battery pack, which only 4 percent of buyers opted for.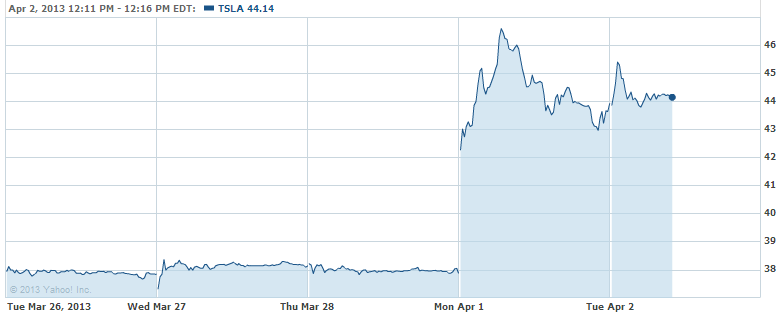 Verizon Wireless (NYSE:VZ) and AT&T (NYSE:T) are rumored to be working on a joint bid for England-based Vodafone (NASDAQ:VOD), amounting to $245 billion for Europe's largest wireless provider. Verizon would acquire the 45 percent stake that Vodafone currently holds in the company, and AT&T would obtain the remaining network services outside of the U.S. This would provide another alternative to Vodafone and Verizon's relationship, which the two have been working on sorting it out for a while.


Bank of America/Merrill Lynch has downgraded shares of Goldman Sachs (NYSE:GS), from Buy to Neutral, and adjusted its price target to $155. The downgrade is based on valuation, and now analysts see Goldman's risk and reward as being balanced, with limited upside.

Epix, a joint venture between Viacom (NYSE:VIAB), Lionsgate Features (NYSE:LGF), and Metro-Goldwyn-Meyer (NYSE:MGM), is slated to go live on Sony's Playstation 3 network on Tuesday. The venture, a "leader in multiplatform availability, EPIX will provide authenticated subscribers access to more than 3,000 titles, featuring new releases like The Avengers, Skyfall, The Hunger Games, Mission: Impossible-Ghost Protocol, plus EPIX original programming including documentaries, music concerts, comedy specials and championship boxing all in high definition." Epix is the first premium network to launch on the PS3 in the U.S.

Don't Miss: Is The Ford Fusion America's Best Shot At Unseating The Camry?