Tesla's Strong China Demand, DirecTV's Solid Quarter, and 3 More Hot Stocks
Tesla Motors (NASDAQ:TSLA): Shares are down even after a report suggests that uptake in China is substantial, and that although the company has yet to receive approval from the country to formally sell its cars, it has been taking in reservation deposits through its Beijing location that opened over the weekend. The company's planned allotment of 100 cars looks like it will quickly sell out; a local auto analyst notes that the Model S sedan will be an enticing toy for Chinese higher-ups, and a positive response from the wealthy could help spur more development of an EV infrastructure in China.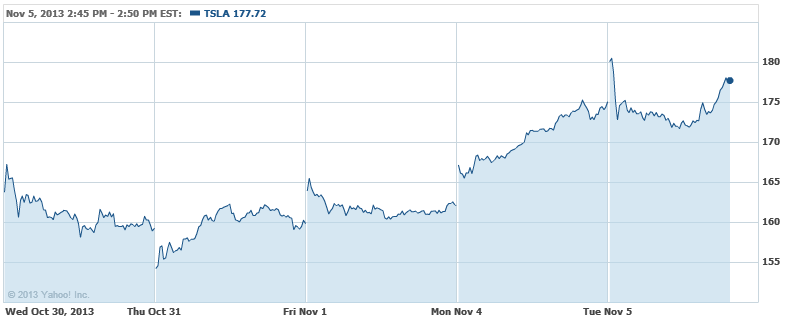 DirecTV (NASDAQ:DTV): DirecTV has posted earnings per share of $1.28, beating estimates by 27 cents, as revenue of $7.88 billion also beat, by $0.03 billion. Although the company announced that it grew sales as well as its operating margin rate, shares are trading lower as the company added 139,000 net subscribers on its lowest third-quarter churn rate in six years. This brings total subscribers to 20.16 million subscribers in the U.S. and 17.22 million subscribers in Latin America.

Novartis AG (NYSE:NVS): The U.K. division of Novartis is contemplating shutting down its unit at Horshem, putting nearly 400 jobs or so in jeopardy if the company decides to cease its operations there. However, the plan is reportedly subject to U.K. board approval and employee consultations; the restructuring at the Horsham site "is the result of a global review of research operations and realignment of our other global R&D sites," the company said, adding that the company will "work closely with everyone affected, including associates, contractors, suppliers and local stakeholder groups, to make the process as straightforward and smooth as possible."

Burger King Worldwide (BKW): Burger King is more closely mimicking McDonald's menu. Industry analysts note that the fast-food chain has been quietly altering its menu to more closely resemble that of Golden Arches' with the exception of its healthier french fry option. The company is bringing back the Big King sandwich, which has two all-beef patties, special sauce, lettuce, cheese, pickles, and onions on a sesame bun — remarkably similar to a certain sandwich at its fast-food rival.
Pandora Media (NYSE:P): Pandora shares are on a tear as the company reports its October listening hours, which saw growth of 8 percent over September for a total of 1.47 billion. Moreover, the 18 percent year-over-year increase is especially notable, since iTunes Radio's influence is taken into account; Pandora's share of U.S. radio listening was 8.06 percent, up from 7.77 percent in September, 7.46 percent in August, and 6.61 percent a year ago.

Don't Miss: Tesla's Earnings Report: 3 Elements to Watch.