Tesla's Strong Quarter Fails to Impress, Office Depot Completes Merger, and 3 More Hot Stocks
Tesla Motors (NASDAQ:TSLA): Tesla shares are trading down some 10 percent despite reporting a third quarter that saw earnings of 12 cents per share beat by 1 cent and revenue of $603 million beat by $68 million. Further, Tesla reports that its gross margin was 22 percent in the period, nearing its goal of a 25 percent margin by the end of the year; Tesla delivered 5,500 Model S sedans, ahead of its own guidance, though it fell short of some high-flying estimates. The big takeaway from the conference call is that it will be production volume constraints — not demand constraints — that will pose the biggest issues in 2014.

Office Depot Inc. (NYSE:ODP): Office Depot and OfficeMax have completed their merger. The former announced its quarter EPS fell at 2 cents, missing by 4 cents, and revenues of $2.62 billion, beating by $0.02 billion. The combined entity will retain the Office Depot name and still trade on the New York Stock Exchange under ODP; it had combined revenue through the third quarter of about $17 billion, spread over 2,200 locations.

21st Century Fox (NYSE:FOXA): EPS of 33 cents missed estimates by 2 cents, though revenue of $7.06 billion beat by $0.26 billion, half the increase of which reflects growth in the Cable Network Programming, Filmed Entertainment, and Television segments, the company said. The growth in revenues and OIBDA came even as the company made significant investments in the channels business, according to CEO Rupert Murdoch. These investments include the launch of FXX and Fox Sports 1. Revenue in Channels grew 12 percent, Television grew 30 percent, and Filmed Entertainment's revenues grew 9 percent.
Zillow Inc. (NASDAQ:Z): Zillow reported EPS of -5 cents, beating estimates by 3 cents, as revenues of $53.3 million beat by $1.95 million. Shares are up as Zillow issues guidance for fourth-quarter revenue of $55 million-$56 million, above the $53.4 million consensus. Marketplace revenue — making up 77 percent of the total — surged 73 percent year-on-year to $40.9 million, even after rising 86 percent in the second quarter. Some 5,942 Premier Agent subscribers were added, up from 4,777 in the second quarter; this brings the total base to 44,749, a 68 percent increase over the same period last year.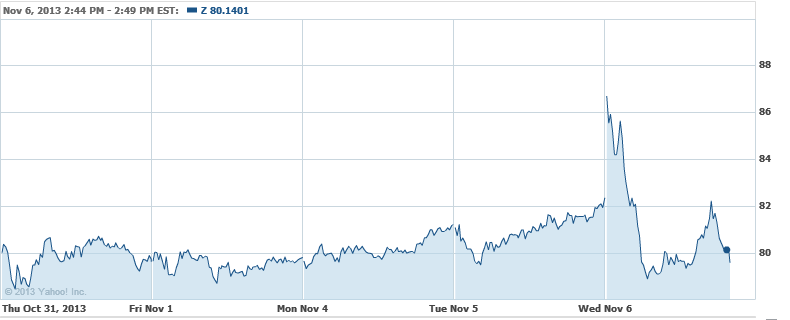 ING Groep N.V. (NYSE:ING): Shares on ING are up as it reports that the third-quarter underlying pretax profit rose 8.3 percent to 1.22 billion euros, though it fell short of the consensus of 1.25 billion euros. Overall net profit — inclusive of discontinued operations, special items, and divestments — plunged 85 percent to 101 million, although it still beat forecasts calling for a loss of 25 million euros. The core Tier 1 ratio rose to 12.4 percent, or 12.1 percent on a pro-forma basis;  ING has paid back 1.125 billion euros in bailout money to the Dutch state and now owes 1.5 billion euros.

Don't Miss: Tesla Earnings: Modest Outlook Fails to Charge Up Investors.