The 10 Highest Paid Comedians in 2015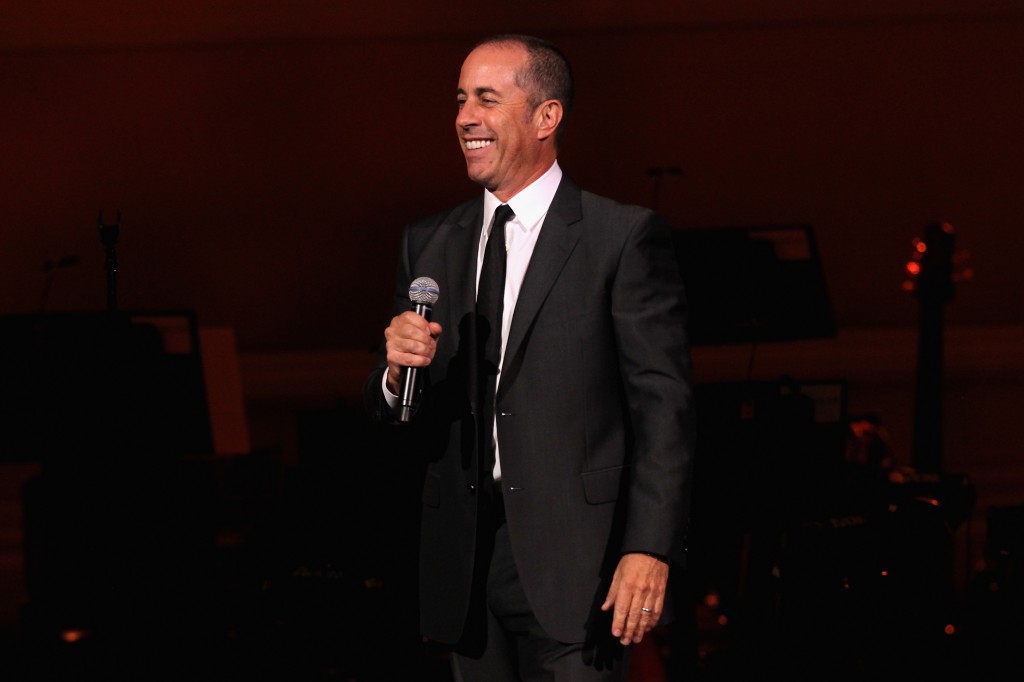 Much like the idea of starting a band or becoming an artist, the aspiration of starting a career as a comedian often comes with pictures of studio apartments, an empty refrigerator, and nothing but a few pennies in the bank account. Living in the lap of luxury seems like a pipe dream, especially if you'd like to make comedy your day job.
There are plenty of comedians who slave away at other jobs with health insurance and salaries, who then scurry to late-night gigs in small clubs to try out their latest material. It's part of the stereotype of being a comedic starving artist, after all. But as with all things, the people who put their heart and soul into their work sometimes get a lucky break — and end up with a paycheck to match.
This year, Forbes put together a list of top-paid comedians, based initially on concert ticket sales but then combined with royalties from a number of other projects. All of the dollar figures are reported from Forbes' list and include earnings from June 1, 2014 to June 1, 2015. Many of the world's best-paid comedians have spent years in the industry, building up their name enough to earn TV and book deals, or score a large advance for selling their memoirs. It goes to show that hard work can pay off, if you've got the chops to make a room full of people squeal with laugher. Think you've got what it takes? Dust off your microphone, and use these top comedians as inspiration for making it big.
10. Dave Chappelle, $7.5 million
After a long hiatus from making many public appearances following the end of Comedy Central's Chappelle's Show, the comedian began to make his way back to being a comedic front-runner. According to Rolling Stone, one of Chappelle's tours in 2014 took over Radio City Music Hall in New York for almost two weeks, which included guest performances by the Roots and Kanye West. It looks like Chappelle is continuing to tour, though at smaller venues. He just finished what Rolling Stone called an "intimate fall tour" during September and October. Aside from those performances, Entertainment Weekly reports Chappelle will also appear in Spike Lee's upcoming movie Chiraq, which began filming over the summer.
For Chappelle, the success comes from overcoming failure early in his career, he said during an interview with Inside the Actors Studio. "I still remember that boo," Chappelle told the host, recalling the first time he bombed on stage, during his performance as a teenager at the Apollo Theater in New York. After realizing he had failed but recognizing it wasn't that bad, he was able to move forward. "After that I was fearless," he said.
9. John Bishop, $8 million
Bishop is one of the few comedians on the list who doesn't call America home. Instead, he's making waves across the pond in Britain on tours and on BBC One with The John Bishop Show. He was named GQ's comedian of the year in 2014, and grew his popularity based on the humor of being an 'every man' sort of guy.
Unlike many others on our list, Bishop didn't start as a starving artist. He started his career in the pharmaceutical field, but left it to make his name in comedy. After playing small gigs and half-empty rooms for a while — to the point of almost throwing in the towel — he finally landed a TV spot on the network that still hosts his show.
8. Gabriel Iglesias, $8.5 million
Known as "Fluffy" to his fans, Iglesias is known for his stand-up routines including specials on Comedy Central like "Gabriel Iglesias: Aloha, Fluffy" and "I'm Not Fat … I'm Fluffy". He's also sold out global tours and earned a recurring role in the Magic Mike films. Despite not finishing in the top spots during a Last Comic Standing run, success is looking pretty good.
7. Louis C.K., $9 million
Dubbed comedy royalty by Vulture, Louis C.K. overcame a childhood filled with drugs and alcohol to become the first comedian to sell out four shows at Madison Square Garden in a single month. He's mastered the art of television specials with his award-winning Louie on FX, and several specials on HBO. He also chose to cut out Ticketmaster during a 2012 show, making the tickets more affordable for fans but still selling more than 100,000 seats in less than two days.
Louis C.K. reportedly turned down Conan O'Brien's offer to become the head writer for his show in the early 90s, though the gamble paid off by doing his own bits instead. The comedian also begins each new year with completely new material — a tough thing to do, but a move that many say has made him one of the best around.
6. Aziz Ansari, $9.5 million
From joining the comedy world with MTV's Human Giant and following it up with a role as Tom Haverford in NBC's Parks and Recreation, Aziz Ansari is now selling out crowds at Madison Square Garden, putting him on par with Louis C.K., Dane Cook, and Eddie Murphy. There's a lot of hype about his work, but it seems like Ansari is at least willing to try to match it.
Most recently, Ansari and Netflix paired up to create Master of None, a show that so far is being met with success. He's also well known for his book, Modern Romance, which Forbes reports earned him an advance of seven figures.
4. Russell Peters (tie), $19 million
There's a huge jump in estimated earnings from Ansari to Peters, who Chris Rock has called "the most famous person nobody's ever heard of." The comedian sells out stadiums and served a stint as a judge on Last Comic Standing, and last year completed his "Almost Famous" tour.
"If you talk to the fans, I'm fully famous," Peters told the New York Post. "If you talk to somebody who doesn't know who I am, I'm not famous at all until you give them a list of the credits or something, and they go, 'Oh, I think I know who that is.' That's what 'almost famous' is."
The Canadian doesn't make a big deal out of his earnings — he told the National Post he has plenty of fond memories being broke. As with other comic greats, he also doesn't believe in reusing old material, even if it was a hit. "The minute a special airs … It's dead to me," he said.
4. Jeff Dunham (tie), $19 million
Dunham began his career as a ventriloquist before he left high school, and quickly showed the world that some props — and characters — can count as comedy. His Spark of Insanity tour, which started in 2007, sold more than 2 million tickets over three years and is the Guinness world record holder for most tickets sold for a tour.
Dunham can credit his move from comedy club basements to sold-out theaters to his 1990 appearance on The Tonight Show with host Johnny Carson. Since then, he's hosted numerous Comedy Central specials and also has a residency at Planet Hollywood in Las Vegas.
3. Terry Fator, $21.5 million
Fator, a skilled impersonator and ventriloquist for more than 20 years before striking it big, was the winner of the second season of America's Got Talent, which eventually helped him land a 10-year contract at the Mirage in Las Vegas.
In an interview on the TODAY Show, Fator called his rise to fame "an overnight success…that took about 25 years."

2. Kevin Hart, $28.5 million
By March of this year, Hart's What Now? tour had booked more than 600,000 tickets and grossed more than $35 million, allowing him to sell out Madison Square Garden, the Barclays Center, and the Prudential Center with ease — something only the Taylor Swifts of the world can otherwise do. At an average of $70 a pop, it's clear Hart's popularity is at an all-time high.
Many comedians will focus on films or television specials instead of spending weeks on the road, but Hart does it all. He "wants to do the films, the specials and the concerts," said Geof Wills, president of Live Nation Comedy, the company promoting many of Hart's shows. "Kevin is really going for it all."
If the tours and specials weren't enough, you can also catch Hart in films that include Ride Along, Think Like A Man Too, The Five-Year Engagement, and 2015's The Wedding Ringer and Get Hard, opposite Will Ferrell.
1. Jerry Seinfeld, $36 million
Some classics never die, and Seinfeld's namesake show is one of them. This year, Hulu bought the rights to all 180 episodes, with sources speculating the deal is worth somewhere between $160 million and $180 million — somewhere near $1 million per episode. All told, the show has earned a reported $3.1 billion since going into syndication in 1995. By the time Seinfeld was filming the last season before it went off the air in 1998, he was earning $1 million per episode.
Seinfeld could rest on his laurels if he wanted to, but it's not likely anytime soon. He's known for attempting to come up with new material every day, and continues to tour and produce his online series Comedians in Cars Getting Coffee. In a Q&A with fans on Reddit, Seinfeld was asked, "If you weren't doing comedy, what would you do?" Seinfeld's answer was succinct: "Die."
Follow Nikelle on Twitter and Facebook
More from Money & Career Cheat Sheet:
Want more great content like this? Sign up here to receive the best of Cheat Sheet delivered daily. No spam; just tailored content straight to your inbox.