The Bezos Ethos at Amazon and 4 Other Hot Stocks
Jeff Bezos' 2012 Letter to Shareholders makes it clear that the dominating philosophy at Amazon (NASDAQ:AMZN) will be to continuously delight and surprise the customer, and thereby to have him for life. It doesn't matter if that costs profits, because, "…as I frequently quote famed investor Benjamin Graham in our employee all-hands meetings –'In the short run, the market is a voting machine but in the long run, it is a weighing machine.' We don't celebrate a 10 percent increase in the stock price like we celebrate excellent customer experience. We aren't 10 percent smarter when that happens and conversely aren't 10 percent dumber when the stock goes the other way. We want to be weighed, and we're always working to build a heavier company."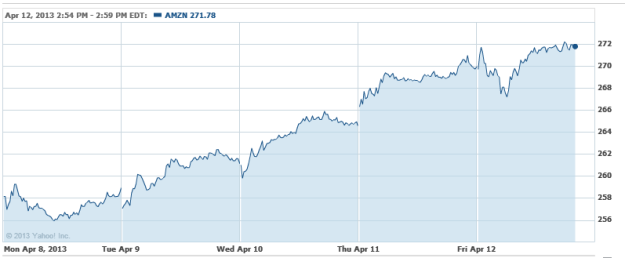 Forest Oil (NYSE:FST) announces an agreement with 'an industry partner' for the future development of the Eagle Ford Shale acreage position. Under the terms of the agreement, the industry partner will pay a $90 million drilling carry in the form of future drilling and completion services and related development capital in order to earn a 50 percent working interest in Forests Eagle Ford Shale acreage position. Forest also plans to accelerate the development by increasing the number of rigs to four by the end of Q3 of 2013. According to estimates, its Eagle Ford acreage will likely hold a potential gross unrisked resource of over 200 MMboe. It expects Eagle Ford Shale Average Net Sales Volumes to Reach 6,500 Boe/d in 2014 from 1,600 Boe/d in 2012.
Advance statistics of March Retail sales show a contraction of 0.4 percent against expectations of growth of 0.1 percent and compared to the previous month's (revised) reading of +1 percent. Cooler weather is said to be the main cause for the muted show.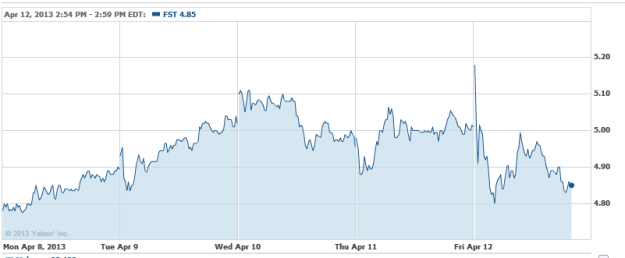 Investing Insights: Does Micron Technology Support Higher Prices?