The Credit Cards With the Most (and Fewest) Fees
Credit cards provide consumers with a lot of benefits, but unfortunately, many of them also come with a number of undesirable fees. The average credit card charges six different fees, according to a 2015 analysis of 100 major credit cards by CreditCards.com. The good news is many of these fees are avoidable if you are a responsible and attentive cardholder. Card issuers are "targeting people who are asleep at the wheel, so to speak," explained Linda Sherry of Consumer Action. "Don't just wait month to month to see what's going on." Setting up auto-payments or regularly monitoring your online account can help you avoid late fees.
The most common credit card fees are for late payments, cash advances, returned payments, balance transfers, and foreign transactions. Only 26% of the cards surveyed had annual fees. The more unusual fees include account re-opening fees, returned check fees, overdraft protection fees, statement hard-copy fees, pay-by-phone fees, replacement card fees, expedited card shipping fees, and stop-payment fees. Subprime lender First Premier Bank even charges its customers an automatic $25 fee when they qualify for and receive increased credit limits.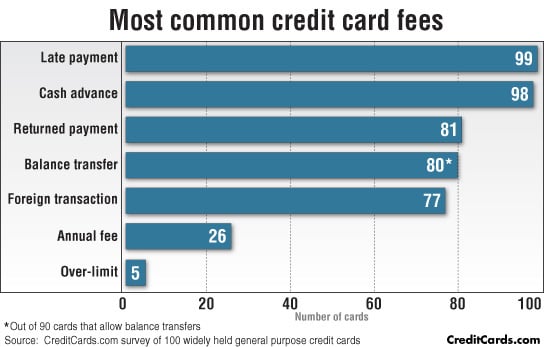 "There are two main categories of fees: penalty fees and transactional fees," according to Matt Schulz, CreditCards.com's senior industry analyst. "Penalty fees are pretty easy to avoid, for example, by paying your bills on time. Transactional fees are more important to comparison shop. If you travel internationally a lot, a credit card that doesn't charge foreign transaction fees is a great value."
Credit cards with the most potential fees
First Premier Bank Credit Card (12)
First Premier Bank Secured MasterCard (12)
Credit One Visa Platinum (9)
Fifth Third Bank Platinum MasterCard (9)
Navy Federal Credit Union Platinum (9)
Navy Federal Credit Union Cash Rewards (9)
Regions Visa Platinum Rewards (9)
Credit cards with the fewest potential fees
PenFed Promise Visa Card (0)
ExxonMobil SmartCard from Citi (3)
Spark Classic from Capital One (3)
Capital One Spark Cash Select for Business (3)
Spark Miles Select by Capital One (3)
Two credit cards from First Premier Bank were the worst offenders, with 12 fees each, and the PenFed Promise Visa Card was the only card surveyed that charges absolutely no fees. Zero- or low-fee credit cards may become even more rare, as card issuers are increasingly relying on these fees for supplemental revenue. This trend accelerated with the recession and the passage of the federal Credit CARD Act of 2009. With new regulations in place to protect consumers and credit card repayments on the rise, credit card companies began looking to fill in gaps in their profits.
"What they can charge, they will charge," said Robert Hammer, founder and CEO of bank card advisory firm R.K Hammer.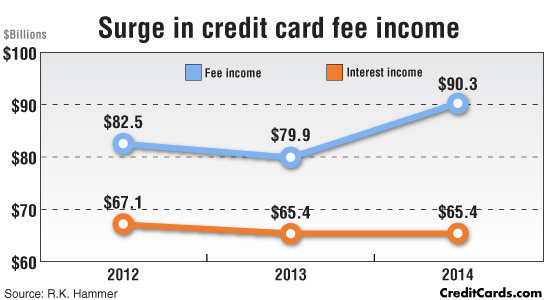 Of course, the Credit CARD Act also meant certain restrictions on fees that are serving to shield consumers from being nickel and dimed. The law capped late fees at $27 for a first offense and $38 for repeat late pays. Over-limit fees have nearly disappeared since the Credit CARD Act made exceeding the credit limit strictly an opt-in program for consumers. But you should come to expect more and more of the fees that are still permissible.
If your card imposes fees that don't seem right to you, Sherry says you should speak up.
"I would remind people that if they do feel like they get into trouble with a card and they feel their fee treatment is unfair, go to the Consumer Financial Protection Bureau and file a complaint," Sherry said. "Check the box for the public narrative, which will allow your story to be shared with other consumers minus the personal details. It can pay to let others know what's going on."
More from Money & Career Cheat Sheet: