The Cuts Keep Coming at Heinz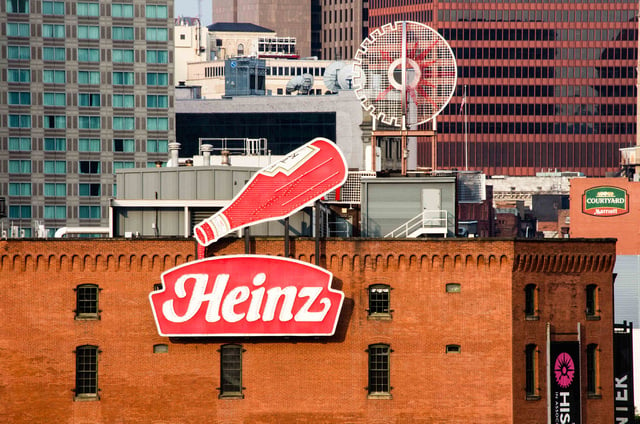 The staff cuts keep coming at H.J. Heinz Co., which was recently acquired by Warren Buffett's Berkshire Hathaway Inc. (NYSE:BRKB) and private equity firm 3G Capital. On top of the 600 corporate layoffs announced in August, two months after the ketchup maker was acquired, Heinz announced on Thursday that three factories would be closed over the next six to eight months, eliminating 1,350 jobs.
The Wall Street Journal reports that the newest round of cuts was made with the goal of consolidating its North American manufacturing and "to ensure we are operating as efficiently and effectively as possible to become more competitive in a challenging environment," according to Heinz. The company also said that 470 positions would be added to factories in Canada, Iowa, California, and Ohio.
When the staff cuts and additions are added up, it equals a net loss of 1,480 jobs since Berkshire Hathaway and 3G Capital took over. That would put Heinz's total salaried and hourly employees in North America at 6,800.
The WSJ points out that 3G Capital has earned a reputation for slashing payrolls and spending in companies it has acquired in the past. When it took over Burger King (NYSE: BKW) in 2010, 3G Capital installed Bernardo Hees as chief executive, who promptly let go of half of the Burger King headquarter's 600 employees. Additionally, Hees oversaw a series of other cost-cutting measures — including requiring employees to get permission for color photocopies — ultimately reducing Burger King's operating costs by about 30 percent. And when it came to getting Heinz back on track, 3G Capital brought Hees over to lead the company.
However, the struggling economy has made successful turnarounds a difficult project for food-makers. Companies like Heinz, Campbell Soup Co. (NYSE:CPB), and General Mills Inc. (NYSE:GIS) have found it difficult to compete with the rise of store-brand goods while eating patterns have changed considerably over the past several years, let alone decades.
Of course, Heinz isn't the only food-maker making significant cuts. Mondelez International Inc. (NASDAQ:MDLZ), which makes Oreo cookies and Ritz crackers, among other products, has recently announced the likely closure of factories, with layoffs in tow. This is the result of the company's plan to build more efficient production lines. Additionally, Kellogg Co. (NYSE:K) plans to reduce its global work force by 7 percent over the next four years.
While the widespread cuts from Berkshire Hathaway and 3G Capital aren't exactly welcome news with a sluggish economy that has yet to really gain traction, there's no doubt that the two companies — 3G Capital in particular — have overseen notable success using the strategy. Following Hees' attempts to trim the fat from Burger King, the fast-food giant went public once again last summer and Hees, Berkshire Hathaway, and 3G Capital are likely hoping to see a repeat performance at Heinz.
Don't Miss: Costco Employees Will Be At Home on Thanksgiving — Weird, Right?