The DIRECTV Group Earnings: Gross Margins Grew
S&P 500 (NYSE:SPY) component The DIRECTV Group, Inc. (NASDAQ:DTV) reported net income above Wall Street's expectations for the first quarter. DIRECTV acquires and distributes digital entertainment programming in the U.S. and Latin America. .
Don't Miss: Wall St. Cheat Sheet's newest Feature Trades of the Month!
The DIRECTV Group Earnings Cheat Sheet for the First Quarter
Results: Net income rose to $674 million (85 cents/share) vs. $558 million (59 cents/share) in the same quarter a year earlier. A rise of 20.8% from the year earlier quarter.
Revenue: Rose 12.7% to $6.32 billion YoY.
Actual vs. Wall St. Expectations: DTV beat the mean analyst estimate of 71 cents/share. Estimates ranged from 63 cents per share to 77 cents per share.
Quoting Management: "Building on the momentum of one of our best years ever, DIRECTV delivered another strong quarter of operating and financial results," said Mike White, president and CEO of DIRECTV. "Record-setting subscriber growth in Latin America and robust customer gains in the U.S. culminated in a nearly two-fold increase in consolidated net additions to 611,000. These industry leading subscriber gains combined with DIRECTV Latin America's 11.7% ARPU growth and margin expansion of 320 basis points, drove double-digit growth in consolidated revenues and operating profit before depreciation and amortization to 13% and 12%, respectively. In addition, the strength and stability of our cash flow continues to create significant value for our shareholders, as the continuation of our share repurchase program along with net income growth of 21% lifted diluted earnings per share by 44% to $0.85 in the quarter."
Key Stats:
The company has enjoyed double-digit year-over-year revenue growth for the past five quarters. Over that span, the company has averaged growth of 12%, with the biggest boost coming in the first quarter of the last fiscal year when revenue rose 14.4% from the year earlier quarter.
Gross margins grew 0.2 percentage point to 50.4%. The growth seemed to be driven by increased revenue, as the figure rose 12.7% from the year earlier quarter while costs rose 12.1%.
Competitors to Watch: DISH Network Corp. (NASDAQ:DISH), Comcast Corporation (NASDAQ:CMCSA), Time Warner Cable Inc. (NYSE:TWC), Grupo Televisa, S.A. (NYSE:TV), Cablevision Systems Corp. (NYSE:CVC), Hughes Communications Inc. (NASDAQ:HUGH), Fisher Communications, Inc. (NASDAQ:FSCI), Liberty Global Inc. (NASDAQ:LBTYA), and Mediacom Communications Corp. (NASDAQ:MCCC)
Stock Performance: Shares of DTV are trading up 0.3% from the previous closing price of $48.50.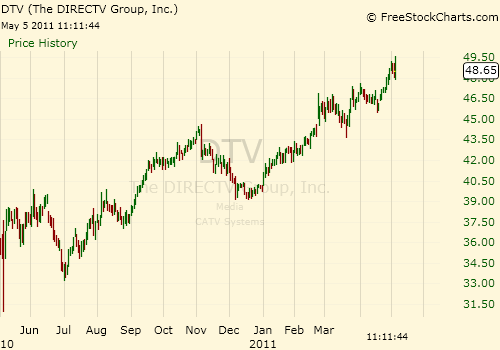 Don't Miss Wall St. Cheat Sheet's newest Feature Trades of the Month!