The Dow Financial Stock Rollercoaster Ride This Week
JPMorgan Chase & Co. (NYSE:JPM): Current Price $47.31
A group of investors remarked in a letter to other JPMorgan shareholders on Monday, that the bank should split the roles of chairman and chief executive officer, so as to restore credibility with regulators and manage the bank more effectively, reports Reuters. The investors, among which include the American Federation of State, County and Municipal Employees, the Connecticut Retirement Plans and Trust Funds, Hermes Fund Managers, and the New York City Pension Funds, have placed a proposal on JPMorgan's proxy to split those roles. If passed, the proposal would be another hit to the company, and its Chairman and Chief Executive Jamie Dimon. JPMorgan has a presiding director, the former Exxon Mobil Corporation (NYSE:XOM) Chairman and Chief Executive Lee R. Raymond, who approves the board's agenda and meeting schedules, and facilitates communication with Dimon, but the investor group insists that he wields too much power.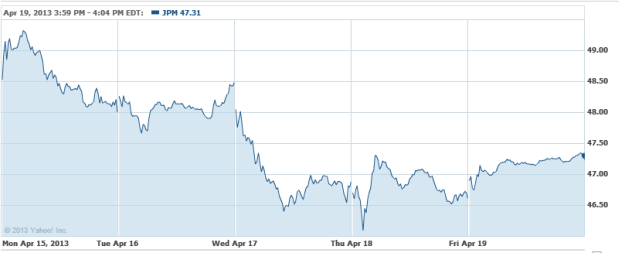 Investing Insights: Should You Hold On to Netspend?
Bank of America Corporation (NYSE:BAC): Current price $11.65
In an accomplishment that should please investors, Chief Financial Officer Bruce Thompson has reported progress in the firm's lowering of noninterest expenses, and also credit costs; both should lead to bigger margins, all other things held equal. Thompson commented, "There were many examples of progress this quarter. We reduced noninterest expenses by nearly $1 billion year-over-year, and credit costs continued to decline. Our relentless focus on capital, liquidity, and expense reduction enables us to return excess capital to investors through the previously announced common stock repurchase program and preferred stock redemptions," according to theflyonthewall.com.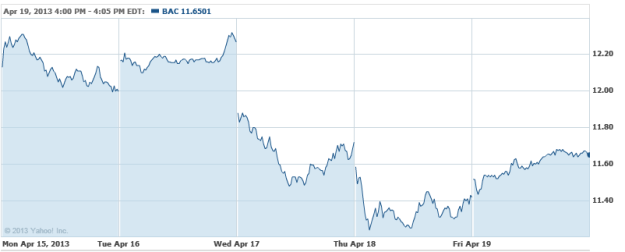 American Express Company (NYSE:AXP): Current price $67.20
On Thursday morning, Credit Suisse (NYSE:CS) elevated its earnings estimates on American Express through 2015, while costs stay under control at the company. However, calculated upon the $61 price target, the research firm reiterated its Underperform. Shares of AXP were higher following strong earnings Wednesday night, picking up a bit more than 2 percent by midday Thursday.