The Dow is NOT Lovin' McDonald's Right Now
On Monday, equities across the board sold-off as more eurozone drama weighed on the market. The International Monetary Fund is set to halt aid payments to Greece, German Vice Chancellor Philip Roesler said a Greek exit has "lost its terror" and Spanish yields climbed above 7.5 percent. Further adding to concerns was a disappointing quarter from the world's largest chain of hamburger fast food restaurants.
Before the opening bell, McDonald's (NYSE:MCD) reported its financial results for the second quarter. Net income for the company fell 4.5 percent to $1.35 billion ($1.32 per share), compared to $1.41 billion ($1.35 per share) a year earlier. Meanwhile, revenue only increased 0.2 percent to $6.92 billion. It was a miss on the top and bottom line for McDonald's, as analysts were expecting profit of $1.38 per share, with $6.94 billion in revenue.The decline in earnings ended a four-quarter streak of profit increases, but revenue has managed to increase for the past four quarters.
Don't Miss: Apple Defeat Could Hit Kodak Hard
"McDonald's global comparable sales remained solid for the quarter while overall results reflected the slowing global economy, persistent economic headwinds and the investments we've made to enhance restaurant operations and provide customers the everyday value they have come to expect from McDonald's," said Don Thompson, chief executive officer.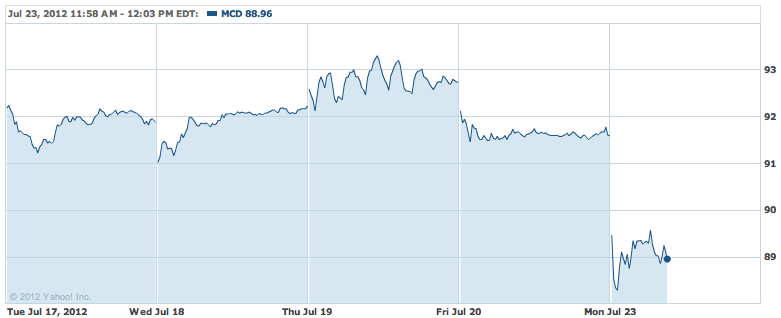 As the chart above shows, shares of McDonald's fell 3.6 percent in morning trading to as low as $88.25 before finding support. Along with Microsoft (NASDAQ:MSFT), Hewlett-Packard (NYSE:HPQ) and Cisco (NASDAQ:CSCO), McDonald's was one of the worst performers in the Dow Jones Industrial Average (NYSEARCA:DIA). Year-to-date, the fast-food giant is down 11 percent.
Last month, analysts at Barclays Capital (NYSE:BCS) reiterated an Overweight rating on McDonald's in a research a note, but Goldman Sachs (NYSE:GS) downgraded shares to Neutral from Buy with a price target of $92. Meanwhile, UBS (NYSE:UBS) cut their EPS estimate, but placed a Buy rating on shares with a price target of $104.
In addition to slowdown fears, the turmoil in Europe is boosting the U.S. dollar. Companies that do business around the globe are feeling the effects of a stronger greenback when they convert local currencies back into the dollar. Excluding currency fluctuations, revenue was up 5 percent at McDonald's. The dollar strength also shaved off about 7 cents of earnings per share, according to Bloomberg.
Investor Insight: Are Company Share Buybacks Positive for Investors?