The Dow Tech Stock Rollercoaster Ride Last Week
Verizon Communications (NYSE:VZ): Current Price $50.82
Vodafone Group (NASDAQ:VOD) could be drawing near a sale of its hugely valuable 45 percent interest  in Verizon Wireless to Verizon Communications, the 55-percent owner of the number-one domestic cell-phone operator, according to a Barron's report. A huge sale like that could bring over $100 billion, and likely would provide a nice lift to Vodafone shares and a potentially smaller rise to Verizon stock. Shares of the United Kingdom-based Vodafone, now about $28, might rise into the mid $30′s, while Verizon, now at $49, could move into the low $50′s.
Verizon has introduced a new prepaid plan to entice feature phone buyers, according to CNET. Launched Thursday, the new no-contract plan is at  $35 per month and offers 500 anytime minutes of talk alongside unlimited text and Internet. The deal is aimed strictly towards feature phones, so smartphone owners need not apply. Beyond that, Verizon offers four feature phones along with the plan: the LG Cosmos 2, the Samsung Gusto 2, the Samsung Intensity 3, and the LG Extravert, and all four phones are heavily discounted when bought as part of the plan.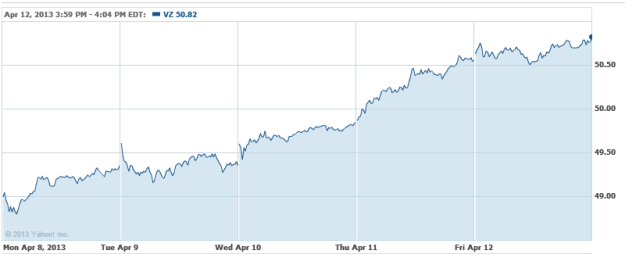 Hewlett-Packard Co. (NYSE:HPQ): Current Price $20.91
Hewlett-Packard's Chief Executive Meg Whitman wants to use a new line of servers to jump-start a multi-year turnaround of a firm that has become a symbol of corporate mismanagement, says Bloomberg. The company revealed last week that Chairman Ray Lane is stepping down while two other directors are resigning, which might allow the computer maker a chance to return from a three-year stretch of falling sales, strategy shifts and management turmoil. Director Ralph Whitworth of Relational Investors will serve as interim chairman while directors search out someone with the "time, energy and ability" to lead the board and keep revival efforts on track, says HP.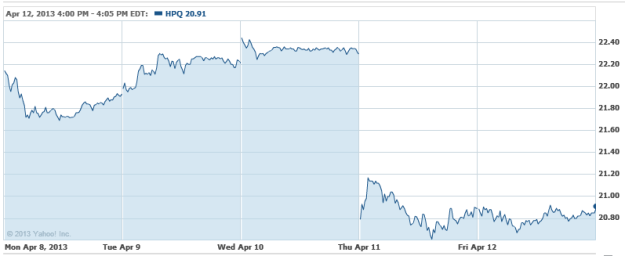 Don't Miss: Microsoft to Attack Apple with This Netflix Support.
Microsoft Corporation (NASDAQ:MSFT): Current Price $28.83
Microsoft's after-sales service of its Surface tablet has brought criticism from China's government-owned radio, after similar reports in the past month targeting Apple (NASDAQ:AAPL), said Bloomberg. China National Radio reported that the Surface Pro should follow the law mandating notebook computers to have a one-year repair warranty for the entire device and a two-year warranty for main parts, rather than the firm's one-year pledge for both.
Microsoft shares fell on heavy volume as the analyst Heather Bellini at Goldman Sachs downgraded the stock. Bellini thinks that the company has four "Plan B" options to finally get its stock out of its current 10-year range, credit crisis not withstanding. She notes that Microsoft shares are up only 3 percent since Apple (NASDAQ:AAPL) debuted the iPhone in June 2007, compared to a gain of 260 percent for Apple, and 170 percent for Samsung. The analyst noted that "We expect the shares to remain range bound (noting we have downside to our price target) especially given our view on weakness versus expectations for fiscal years 2013/14 revenues and earnings per share.
IDC reports that global PC shipments dropped by 14 percent in the first three months of 2013, marking the sharpest drop since the company's first report on the industry in 1994. Beyond that, IDC says the appeal of tablets and smartphones is draining money from PC sales, but it also blames Microsoft's Windows 8, which has a new appearance and makes users learn new ways to control their machines. IDC executive Bob O'Donnell said that "While some consumers appreciate the new form factors and touch capabilities of Windows 8, the radical changes to the UI, removal of the familiar Start button, and the costs associated with touch have made PCs a less attractive alternative to dedicated tablets and other competitive devices. Microsoft will have to make some very tough decisions moving forward if it wants to help reinvigorate the PC market."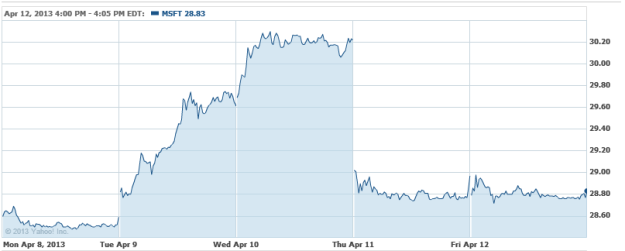 AT&T (NYSE:T): Current price $38.60
Six additional AT&T markets now have access to its 4-gigabyte LTE network, bringing its aggregate to 182, said the carrier, according to CNET. At the same time, seven current AT&T markets have secured expanded LTE coverage. The firm also revealed plans to bring the super-fast wireless connection to 77 additional markets by the end of summer. AT&T is hurrying to catch up to the market leader Verizon Wireless (NYSE:VZ), which offers LTE in almost 500 markets and intends to finalize up its deployment by the middle of 2013.
Powered by Facebook (NASDAQ:FB), the HTC First smartphone can rely upon AT&T. CNET reports that the latter, which is the exclusive partner to Facebook and HTC for the First, pledges to give the device its most prominent position in stores when it debuts on Friday, as AT&T considers the HTC First its flagship smartphone for the spring, according to device executive Claudia Knop to CNET. AT&T also has the HTC One and Samsung (SSNLF) Galaxy S4 waiting on standby. While AT&T will offer both devices, Knop said the carrier would concentrate its promotional endeavors on the First.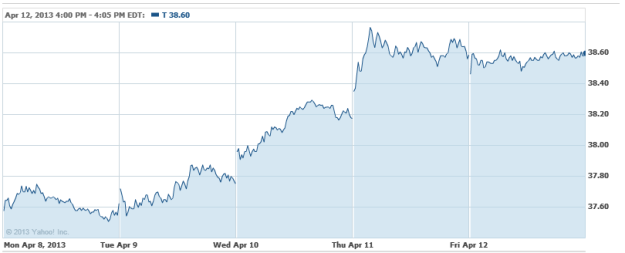 International Business Machines Corporation (NYSE:IBM): Current price $211.05
Shares were upgraded from Neutral to Buy by analyst Steve Milunovich at UBS, who raised his target price from $210 to $235. Milunovich thinks that IBM is well-positioned for the forthcoming computing era because integrated vendors do well early in a tech transition; the majority of the near-term action will be in private cloud, which is an IBM strength; and IBM's hosting capability and support of OpenStack will be helpful later in the wave.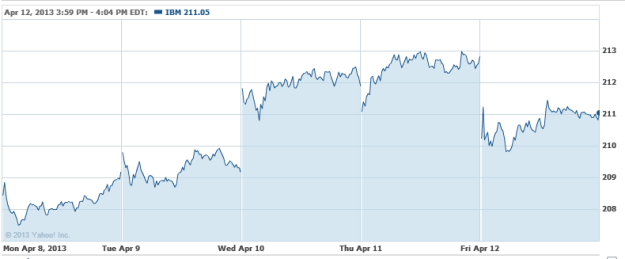 Investing Insights: Do These Factors Support A Bull Run In Yum! Brands?