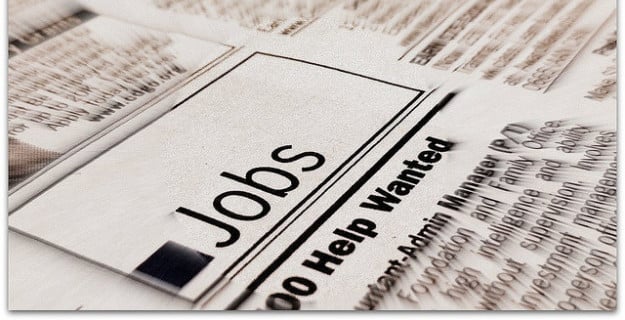 Initial claims for unemployment benefits declined for the first time in three weeks, a sign that the growth reflected in October's and November's jobs report was not transitory. In recent weeks, initial claims for unemployment benefits have ticked upward. After months as one of the only sources of strength in labor market, that uptick appeared to be a cause for concern. Excluding the effects that Washington's political drama had on jobless claims in the month of October, the number of Americans applying for unemployment benefits has been trending down for much of the year. Furthermore, even though initial claims data — which serves as a proxy for layoffs — do not tell the whole labor story, that strength was encouraging.
Yet, after jumping 69,000 to 369,000 claims in the week of December 7 and rising 11,000 to 380,000 claims in the week of December 14, initial applications began charting a new course. Of course, for the most part, those increases can be attributed to seasonal volatility. The Department of Labor has stressed that during the holidays, the underlying trend is what is most important. While the department announced Thursday morning that claims plunged by a greater-than-expected 42,000 to 338,000 in the December 21 week, the underlying trend has become more concerning. Jobless claims provide the first look at the employment situation for any given month, but since the weekly figures can be volatile, economists use the four-week moving average to understand wider trends.
Last week, that average came in at 343,750, a figure little changed from the month-ago trend. However, the Labor Department reported Thursday that the four-week average rose by another 4,500 claims to 348,000, which is approximately 15,000 claims higher than the month-ago trend. That movement, while not reliable, is a negative indication for the jobs market. A Labor Department official did note that the holidays make it difficult to adjust for fluctuations in initial claims.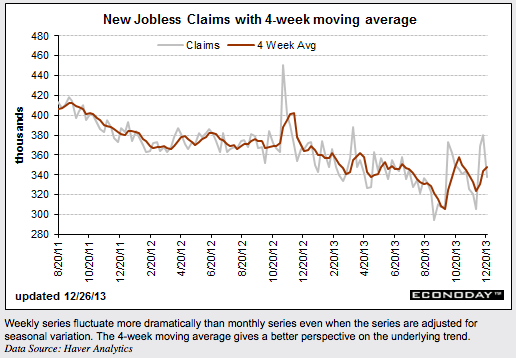 Improvements in the labor market are often hard to see on a week-by-week basis. In the week ended December 7, the total number of people claiming benefits in all programs was 4,279,284, a decrease of 132,858 from the previous week. There were 5,471,714 persons claiming benefits in all programs in the comparable week in 2012. Other unemployment data was mixed. The number of people continuing to receive jobless benefits increased by 46,000 to 2.92 million in the week ended December 14, the highest level since August. However, those individuals who have used up traditional benefits and are collecting emergency and extended payments dropped by about 40,700 to 1.33 million in the week ended December 7, the most recently available data.
A more complete picture of the December's job growth will be available once the Labor Department's Employment Situation Report is released next month. Changes in first-time applications for unemployment benefits are only half of the story; falling applications must be accompanied by increased hiring. October and November marked a change in the trend of job creation. Seemingly, those economists who expected the labor market recovery to take giant steps toward the end of the year were correct. The jobs report released by Department of Labor's Bureau earlier this month provided evidence to support the recovery narrative.
United States employers added 203,000 jobs to their payrolls in November, beating expectations for a 180,000-job gain. The job gains made November the fourth straight month of solid hiring, helping the unemployment rate to fall to 7 percent — a five year low. Now, including the downward revision of October job growth to 200,000 from 204,000, the U.S. economy added an average of 204,000 jobs from August through November, an increase from the 159,000 per month added between April and July. "Companies have been holding on to workers and are now a getting a bit more active on hiring," RBS Securities economist Omair Sharif told Bloomberg.
The jobs report was of especial interest to the Federal Reserve, whose policymakers finally decided to begin tapering its monthly monetary stimulus program that was designed to decrease borrowing costs in order to boost stronger consumer and business spending, hiring, and economic growth.
During a December 18 press conference that followed the Federal Reserve's regularly scheduled Free Open Market Committee Meeting, Chair Ben Bernanke announced that the central bank would begin scaling back its $85-billion monthly asset purchases by $10 billion beginning in January. "Information received since the Federal Open Market Committee met in October indicates that economic activity is expanding at a moderate pace," noted the Fed's accompanying press release. Despite the fact that the headline employment rate remains elevated, it has declined and labor market conditions have shown "further improvement" since the FOMC's September meeting. In fact, "the Committee sees the improvement in economic activity and labor market conditions over that period as consistent with growing underlying strength in the broader economy. Fed officials now expect the unemployment rate to fall as low as 6.3 percent by the end of next year, which compares to September's projection of 6.4 percent to 6.8 percent.
More From Wall St. Cheat Sheet:
Follow Meghan on Twitter @MFoley_WSCS