The Fresh Market Earnings Cheat Sheet: Profit Falls as Costs Rise
Rising costs did not help The Fresh Market (NASDAQ:TFM) in the first quarter as profit dropped from a year earlier. Fresh Market, Inc. retails food. The Company operates a chain of stores that retail fresh premium perishable food items. Fresh Market operates in the southeastern, midwestern and mid-Atlantic states.
Don't Miss: Wall St. Cheat Sheet's newest Feature Trades of the Month!
The Fresh Market Earnings Cheat Sheet for the First Quarter
Results: Net income for the grocery store fell to $13.5 million (28 cents/share) vs. $19.9 million (41 cents/share) a year earlier. A decline of 11.9% from the year earlier quarter.
Revenue: Rose 20.1% to $264.5 million YoY.
Actual vs. Wall St. Expectations: TFM beat the mean analyst estimate of 20 cents/share. Estimates ranged from 18 cents per share to 23 cents per share. It beat the average revenue estimate of $247.7 million.
Quoting Management: "We continue to be pleased with our business performance, particularly our ability to deliver strong earnings growth on top of a robust first quarter last year," said Craig Carlock, President and Chief Executive Officer. "We are encouraged by the fact that our business continued to expand and performed consistently and steadily in the first quarter, and we remain confident in our EPS guidance of $1.01 to $1.05 for the year."
Key Stats: The company has now beaten estimates the last two quarters. In fourth quarter of the last fiscal year, it topped expectations with net income of 33 cents versus a mean estimate of net income of 30 cents per share.
Competitors to Watch: Whole Foods Market, Inc. (NASDAQ:WFM), Safeway Inc. (NYSE:SWY), The Kroger Co. (NYSE:KR), Wal-Mart (NYSE:WMT), Target (NYSE:TGT), Costco (NASDAQ:COST), BJ's Wholesale (NYSE:BJ), Ruddick Corporation (NYSE:RDK), Ingles Markets, Inc. (NASDAQ:IMKTA), Winn-Dixie Stores, Inc. (NASDAQ:WINN), SUPERVALU INC. (NYSE:SVU), Weis Markets, Inc. (NYSE:WMK), and Arden Group, Inc. (NASDAQ:ARDNA).
Stock Performance: Shares of TFM are unchanged from the previous close of $39.64.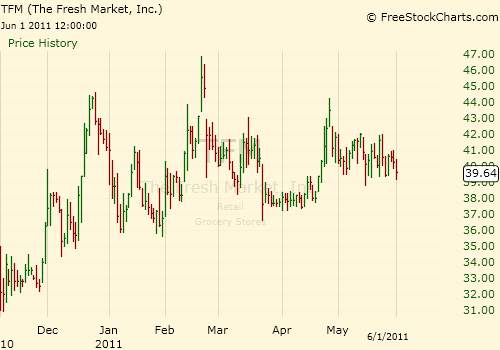 Don't Miss Wall St. Cheat Sheet's newest Feature Trades of the Month!
(Sources: YahooFinance, Xignite Financials)