The Future of Boeing's 777X Hinges on a January 3 Vote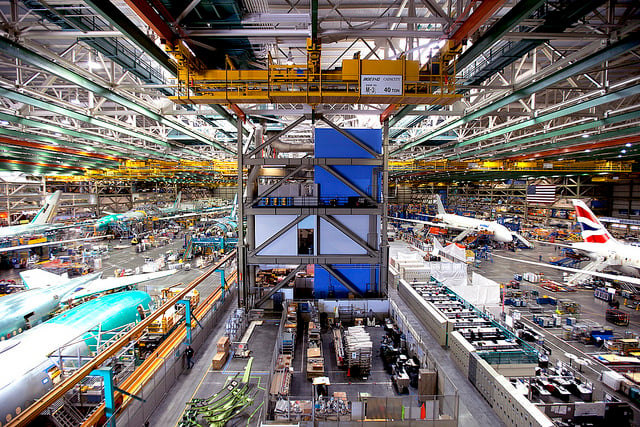 As members of the Washington state machinists union gear up to vote on Boeing's (NYSE:BA) latest offer sheet on January 3, the international president of the Machinists union, Tom Buffenbarger, continues to push members to accept the newest deal that would keep Boeing's 777X construction in the Puget Sound area, AP reports.
Although local union leaders in the state continue to resist Boeing's offers, calling the deal too similar to the one it rejected last month, there appears to be mounting momentum that union members might vote to accept Boeing's latest deal. While the newest deal still impacts employee pensions — something that's been a huge sticking point for local leaders — Boeing has recently backed away from its attempts to slow the pay scale rate of machinists moving up the ladder while adding an additional $5,000 bonus and better dental coverage.
"I am duty-bound to inform the membership this vote will be the final vote on this proposed contract," said Buffenbarger. And with other states putting together strong packages to lure the construction of Boeing's 777X, there's certainly a sense that while Washington state still fells like the the front runner in the Boeing race despite all the problems with local union leaders, it isn't likely to stay that way much longer.
None of that matters if the machinists vote to accept Boeing's latest revised offer on January 3. According to Boeing, the company's most recent offer still stands — despite rumors last week to the contrary — and if union members vote to accept the offer sheet, Boeing's 777X will be built in Washington state despite rumblings of moving production elsewhere.
However, according to local union leaders, Boeing's offer — even with its most recent concessions — is still not enough to make up for "massive takeaways." Local union leaders stated, "If the company chooses this path of destruction, then they are responsible for it. We, as union members, do not have control over it and have a contract in place through 2016."
Now the question is whether the majority of union machinists in Washington state still agree with that sentiment. We'll know for sure after January 3.
More From Wall St. Cheat Sheet: