The Good Times Continue to Roll for Real Estate
The housing recovery is heavily dependent on low interest rates induced by the Federal Reserve, but mortgage applications continue to slowly grind higher.
According to the Mortgage Bankers Association's latest report for the week ending April 5, loan application volume gained 4.5 percent on a seasonally adjusted basis from one week earlier. This comes after a 4.0 percent decline. These figures include both refinancing and home purchase demand, and covers over 75 percent of all domestic retail residential mortgage applications.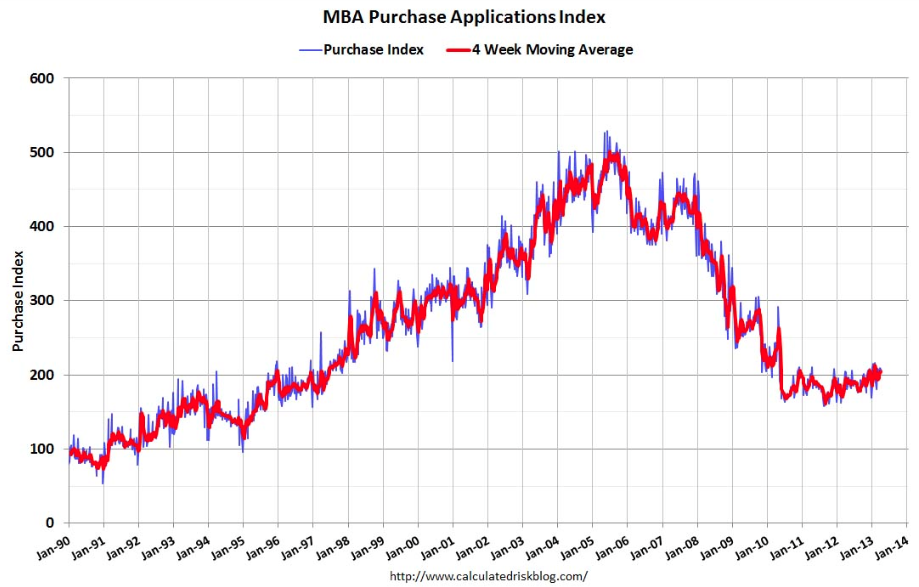 The industry group's Refinance Index increased 6.0 percent from the previous week, while the Purchase Index declined 1.0 percent. On an unadjusted basis, the Purchase Index still fell 1.0 percent, but was 3.0 percent higher than the same week one year ago.
A hike in expenses delivers a blow to government purchase applications…
Although the Purchase Index declined, Mike Fratantoni, vice president of research and economics at the MBA, explains, "Following the April 1 increase in FHA mortgage insurance premiums, government purchase applications fell by almost 14 percent, to their lowest level since February 2013. On the other hand, applications for conventional purchase loans increased by more than 5 percent, bringing the conventional purchase index to its highest level since October 2009 and the highest level since the expiration of the homebuyer tax credit. With these changes, the government share of all purchase loans fell to 30 percent, the lowest level since we began tracking this series in 2011."
Overall, the refinance share of mortgage activity edged higher to 75 percent of total applications. The refinance share declined for ten straight weeks earlier this year, and is slightly above its lowest level since May 2012.
The average interest rate for a 30-year fixed-rate mortgage came in at 3.68 percent, down from 3.76 percent in the prior week. The week ending March 15 posted the highest contract rate since August 2012 at 3.82 percent. The average rate for a 15-year fixed-rate mortgage decreased from 2.99 percent to 2.92 percent.
In morning trading, homebuilders such as Lennar (NYSE:LEN) and D.R. Horton (NYSE:DHI) edged slightly higher, while PulteGroup (NYSE:PHM) traded in the red. Meanwhile, shares of The Home Depot (NYSE:HD) and Lowes (NYSE:L) traded flat.
Don't Miss: How Much Gold Exists in the World?