The Great Recession Is Definitely Over for These 5 Banks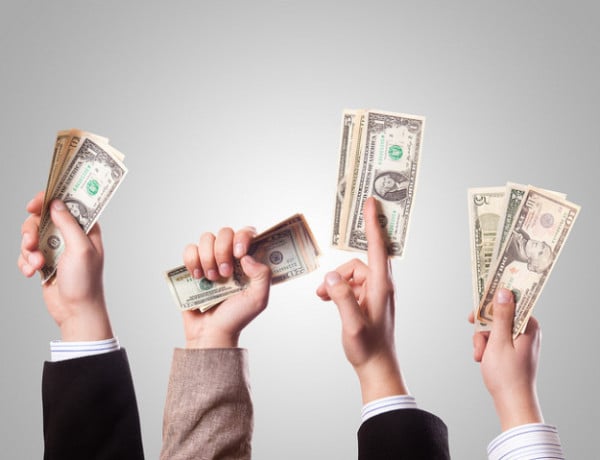 The old saying "laughing all the way to the bank" has taken on a whole new meaning in recent years. Despite major financial institutions nearly collapsing the entire system during the credit meltdown of yesteryear, bank profits are soaring to new multiyear highs.
The Great Recession is officially over for financial institutions. Commercial banks and savings institutions posted aggregate net income of $42.2 billion in the second quarter of 2013, according to a new report from the Federal Deposit Insurance Corporation. That represents an increase of 22.6 percent from $34.4 billion in profits a year earlier. Banks insured by the FDIC have registered a year-over-year increase in earnings for 16 consecutive quarters, and the average return on assets is at its highest level in more than six years.
FDIC Chairman Martin J. Gruenberg said: "The trends we have seen in recent quarters continued in the second quarter. Asset quality continues to recover, loan balances are trending up, fewer institutions are unprofitable, the number of problem banks is down, and the number of failures is significantly below levels of a year ago."
Since stocks bottomed in early 2009, financials have been one of the best-performing sectors in the market. Here's a look at how the biggest banks in the nation have done this year.
Read More: How Many Americans are Still Underwater or Anchored to Their Homes?
Wells Fargo (NYSE:WFC)
Year to date: 21.7 percent
The country's largest mortgage lender recently enjoyed a record second quarter. Net income surged 19 percent to $5.5 billion, compared to $4.6 billion a year earlier.
"Wells Fargo achieved outstanding results for the second quarter, with our diluted EPS growing for the 14th consecutive quarter and our returns on assets and equity increasing from second quarter 2012 and first quarter 2013," said Chairman and Chief Executive Officer John Stumpf. "Our results reflected the strength of our diversified business model. Compared with the prior quarter, we grew loans, deposits, and net interest income, and both our efficiency ratio and credit quality improved."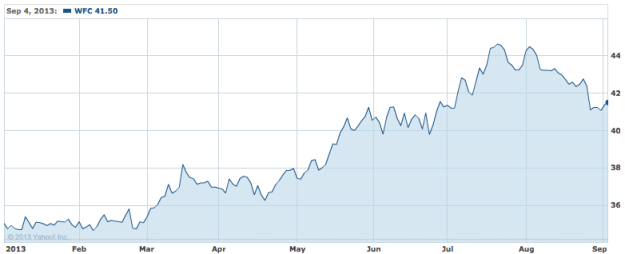 Goldman Sachs (NYSE:GS)
YTD: 22.9 percent
The global investment banking and securities firm posted net income of $1.9 billion in the second quarter, more than double the $962 million a year earlier.
"The firm's performance was solid especially in the context of mixed economic sentiment during the quarter," said Lloyd C. Blankfein, Goldman Sachs chairman and CEO. "Improving economic conditions in the U.S. drove client activity and the strength of our global client franchise allowed us to deliver positive performance across a number of our businesses."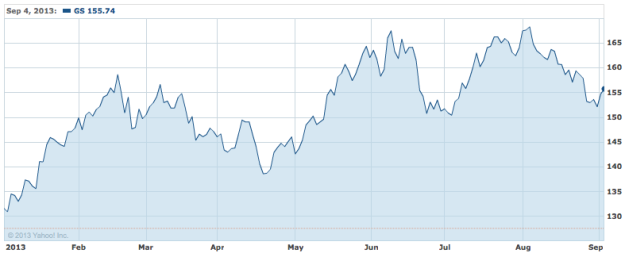 Bank of America (NYSE:BAC)
YTD: 24.3 percent
The North Carolina-based bank earned $4 billion in the second quarter, up 63 percent from $2.5 billion a year earlier.
"At the beginning of the year, we said we would focus on three things — revenue stability, strengthening the balance sheet and managing costs," said Chief Financial Officer Bruce Thompson. "This quarter, we delivered on all three. Revenue increased 3 percent, we continued to build capital ratios, despite the negative impact of higher interest rates on our bond portfolio, and we reduced expenses related to servicing delinquent mortgage loans at a faster rate than we originally expected."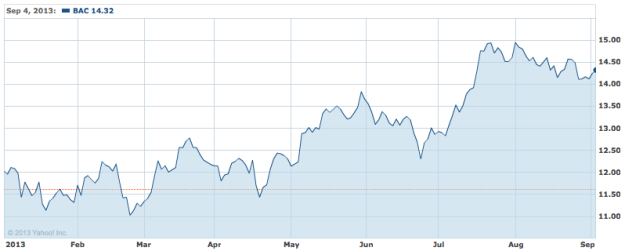 Read More: Are You Saving Enough for Retirement?

Citigroup (NYSE:C)
YTD: 25.1 percent
The New York-based bank earned $0.42 billion in the second quarter while bringing in revenue of $20.5 billion.
Michael Corbat, Citigroup's CEO, said: "Our businesses performed well during the quarter and these results are well-balanced through our products and geographies, especially in the emerging markets, where growth is being challenged. We also continued to make progress in several critical areas. We reduced the earnings drag caused by Citi Holdings, where we saw the largest percentage reduction of assets since 2010."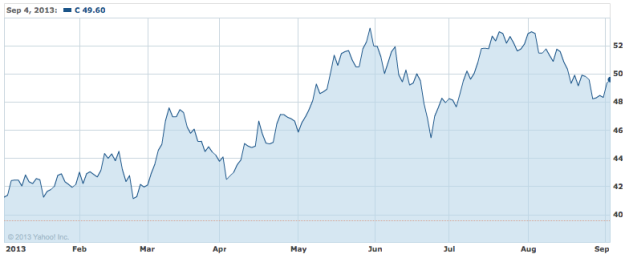 Morgan Stanley (NYSE:MS)
YTD: 40.3 percent
The global financial services firm earned $980 million in the second quarter, compared to $564 million a year earlier. Over the same period, net revenue improved from $6.9 billion to $8.5 billion.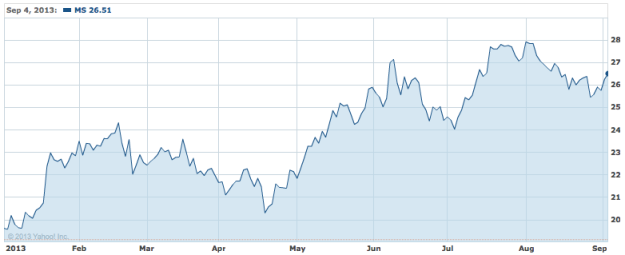 Read More: 10 Big Brands That May Be Heeding Warren Buffett's Advice
Follow Eric on Twitter @Mr_Eric_WSCS
Like us on Facebook to get the latest from Wall St. Cheat Sheet right in your News Feed.