The Hain Celestial Group, Inc. (NASDAQ:HAIN) reported net income above Wall Street's expectations for the third quarter. Hain Celestial Group, Inc. manufactures, markets, distributes and sells natural and organic specialty and snack food products and natural personal care products.
Don't Miss: Wall St. Cheat Sheet's newest Feature Trades of the Month!
The Hain Celestial Group Earnings Cheat Sheet for the Third Quarter
Results: Net income for the processed and packaged goods company rose to $16.8 million (38 cents/share) vs. $2.7 million (6 cents/share) in the same quarter a year earlier. A substantial increase from the year earlier quarter.
Revenue: Rose 29.8% to $288.4 million YoY.
Actual vs. Wall St. Expectations: HAIN reported adjusted net income of of 36 cents/share. By that measure, the company beat the mean estimate of 34 cents/share. Estimates ranged from 32 cents per share to 38 cents per share.
Quoting Management: "Our third quarter results reflect the strength of our brands and our solid execution across various classes of trade in the growing natural and organic industry," said Irwin D. Simon, President and Chief Executive Officer of Hain Celestial. "All of our reporting units grew, both in the United States and abroad. Strong top line performance came from our Grocery and Snacks, Celestial Seasonings and Personal Care units with solid contributions from our Canadian and European units."
Key Stats:
Last quarter marked the fifth consecutive quarter of gross margins expanding as the company's gross margin expanded 0.9 percentage point to 28.6% from the year earlier quarter. Over that span, margins have grown on average four percentage points per quarter on a year-over-year basis.
Over the last five quarters, revenue has increased 6% on average year over year. The biggest increase came in the most recent quarter, when revenue rose 29.8% from the year earlier quarter.
Competitors to Watch: General Mills, Inc. (NYSE:GIS), Campbell Soup Company (NYSE:CPB), Kraft Foods Inc. (NYSE:KFT), The J.M. Smucker Company (NYSE:SJM), TreeHouse Foods Inc. (NYSE:THS), H.J. Heinz Company (NYSE:HNZ), Amish Naturals Inc (AMNT), PepsiCo, Inc. (NYSE:PEP), and Dakota Growers Pasta Co Inc (DKGW)
Stock Performance: Shares of HAIN are trading up over 2% after hours.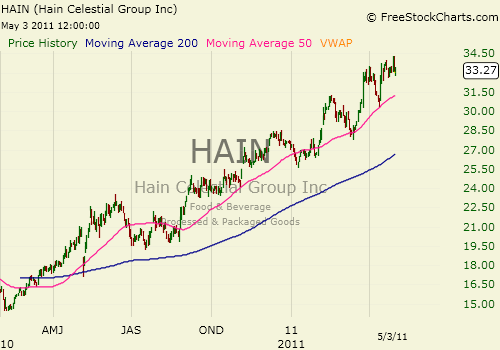 Don't Miss Wall St. Cheat Sheet's newest Feature Trades of the Month!