The Honda Odyssey Is a Minivan Safety Champion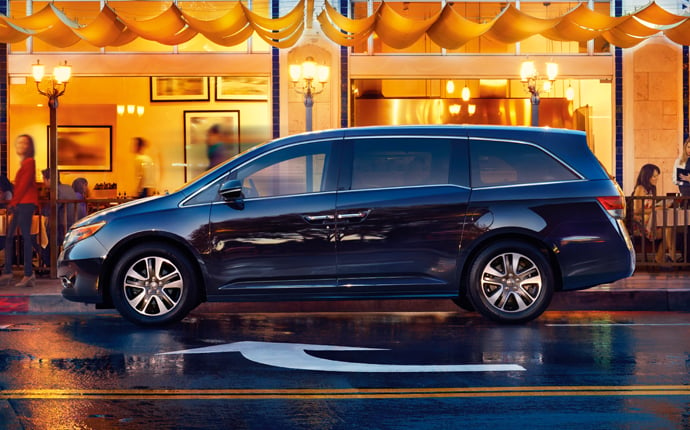 In a month when vehicle safety designations became front-page news, Honda (NYSE:HMC) has an undisputed champion in the minivan segment. The 2014 Honda Odyssey landed the coveted Top Safety Pick Plus award from the Insurance Institute for Highway Safety (IIHS) on Thursday, and the company has every reason to spread the news that its upgraded minivan is the safest on the road.
Honda received the designation for its 2014 Odyssey after the automaker requested a test be made on its new model vehicle. The IIHS only recently put its small overlap front crash test into effect; the Odyssey was the first minivan to go under the microscope, according to a statement by the IIHS. Honda had to pay for its brand-new minivan to be destroyed by IIHS testers, and the vehicle passed with flying colors.
In fact, the 2014 Odyssey received a "good" rating in each of the five categories in the testing process. Even though it's possible to receive Top Safety Pick Plus designation without scoring the highest in every test — an "acceptable" rating is permitted in one category — Honda is free to brag about having the safest minivan ever tested. Honda could actually go even further if the automaker wishes to boast about the safety of its fleet.
According to the IIHS statement, Honda has six vehicles with Top Safety Pick Plus designations: two Accord models, two Civics, and the Acura TL, in addition to the Odyssey. As Bloomberg reported in mid-August, Honda had its engineers working hard on passing the most stringent safety tests with the new Odyssey, and it has achieved its goal. Honda USA reps went on the record to describe the company's commitment to safety following the IIHS designation.
"Honda's goal is to continuously advance the safety performance of every Honda vehicle to fulfill the trust our customers place in the Honda brand," Art St. Cyr, vice president of product planning and logistics for Honda USA, said in a statement. Unlike the controversial claims Tesla's (NASDAQ:TSLA) chief executive made about the Model S's safety ratings, Honda showed a measure of restraint in its statements, and its achievement was touted by Adrian Lund, president of the IIHS.
"Consumers look for models with the highest safety ratings. Honda is ahead of many of its competitors in building state-of-the-art crashworthiness into its vehicles," Lund said in a statement, noting how important the safety factor is in the minivan market.