The Hottest Tech Stories Investors Must Know from the Week
Here's your Cheat Sheet to this week's top tech industry business headlines:
Apple (NASDAQ:AAPL): Current price $449.98
Two huge banks are poised to assist Apple in selling bonds for the first time in 17 years. Goldman Sachs Group has been advising Apple as to handling  with its multibillion- dollar cash pile, and Deutsche Bank is also ready to help the iPhone maker. Apple has asked the banks to set up phone interviews with fixed-income investors Monday, prior to a potential deal, said a knowledgeable source. The largest domestic maker of smartphones has not required Wall Street's services since its 1980 initial public offering and its most recent bond deal in 1996.
BlackBerry (NASDAQ:BBRY): Current price $449.98
Analyst Peter Misek at Jefferies on Monday reiterated his BlackBerry shares Buy, citing a solid uptake of the firm's latest handsets, writing that "Our checks indicate Z10 sales in Canada, United States and United Kingdom remain steady with no excess inventory or return issues." Misek also pointed out Friday's Q10 launch at Carphone Warehouses within Selfridges department stores in the United Kingdom, noting that the keyboard phones sold out quickly at the high-end department stores. What is more, BlackBerry was one of the most active premarket Nasdaq stocks on share volume of 351,425.
Are these stocks a buy or sell? Let us help you decide. Check out our Stock Picker Newsletter now.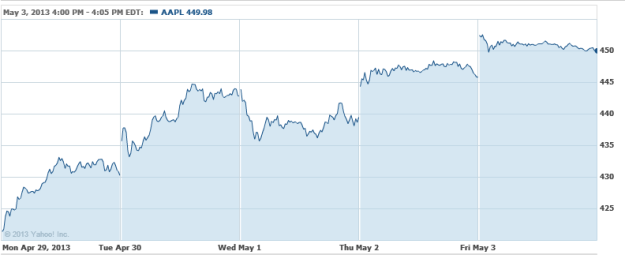 Don't Miss: Will Apple's iOS 7 Get This Killer App?
Amazon.com (NASDAQ:AMZN): Current price $258.32
Amazon might experience its first strike in Germany by warehouse workers, who want better pay and benefits. Amazon employs roughly 9,000 persons throughout Germany and has been criticized by the trade union Verdi for declining to implement a collective agreement on employment conditions, which was done with that country's other mail order and retail companies. Also, the union is also pushing for higher basic pay and larger supplements for night shifts. Amazon workers in Leipzig, late of the German Democratic Republic, approved strike action earlier in April, and staff at Bad Hersfeld where 3,700 are employed, joined them on Monday.
Amazon.com's company Amazon Web Services announced on Tuesday the debut of the new AWS Certification Program, with the first of several exams that will made available this year. With the quickening adoption of cloud computing, and the AWS Cloud globally, organizations are more and more searching out mechanisms with which to identify candidates and consultants having demonstrated knowledge of AWS best practices. The new AWS Certification Program helps to address this need to recognize IT professionals that exhibit the skills and technical knowledge required for building and maintaining applications and services on the AWS Cloud.
Forbes is reporting that Amazon might be prepping for expansion into Russia, says TechCrunch. It seems that the company has opened its first office in that country, led by Arkady Vitrouk, the former general director of ABC-Atticus, a publishing group owned by the media mogul Alexander Mamut. Further, Forbes cites unnamed sources in saying that the appointment and the office opening, have not been confirmed by Amazon proper, but TechCrunch says: "However, we've discovered that Vitrouk's LinkedIn profile does confirm him as director of Kindle Content for Amazon in Russia."
Are these stocks a buy or sell? Let us help you decide. Check out our Stock Picker Newsletter now.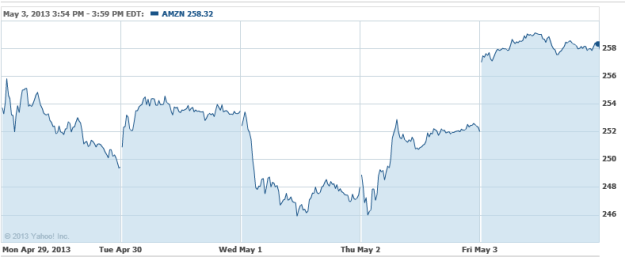 Google (NASDAQ:GOOG): Current price $845.72
Beginning Monday, Google brings its most interesting mobile application to its largest rival's phones, according to Liz Gannes at AllThingsD, who reports that the Google Now personal assistant application will be added to the Google Search app for iPhone and iPad. This deleopment was anticipated, but still it is a loud-and-clear indication of Google's and Apple's diverse mobile strategies. Whereas Apple would balk at bringing Siri or its other signature applications to Android, Google prefers to get persons using its services from wherever they are. "Google Now should still be a better experience on Android, where it is built into the latest operating system and is accessed via an upswipe motion, along with live-updating home and lockscreen widgets," said Gannes.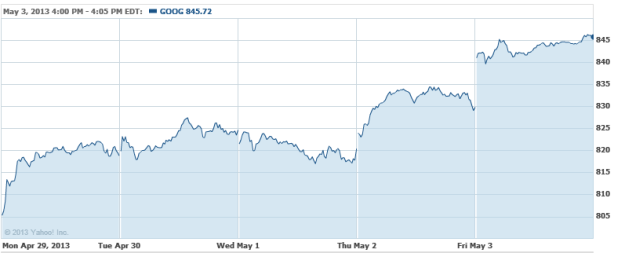 Facebook (NASDAQ:FB): Closing price $28.32
Ina Fried at AllThingsD reports that Microsoft Coporation said on Tuesday that there exists a test version of updated Facebook software for Windows Phone 8, adding that the beta software lends support for high-resolution photos, post sharing and the Facebook Timeline, as well. However, Microsoft remarked in a blog post that "Don't like it when apps crash?" This probably isn't the program for you." For the present, the application is not available in the Windows Phone marketplace.
In the first quarter, mobile advertising revenue growth accelerated as Facebook sold more ads to users on smartphones and tablets, which partially outweighed the higher spending that pinched profits. New sorts of ads created for smartphones, especially those aimed at luring Facebook users into installing mobile applications on their phones, helped swell revenue, while traffic to the social network stayed strong. These results implied to Wall Street that Facebook was keeping up with consumers' shift from PCs to smartphones, even if the had few big surprises in store during the first quarter.
Are these stocks a buy or sell? Let us help you decide. Check out our Stock Picker Newsletter now.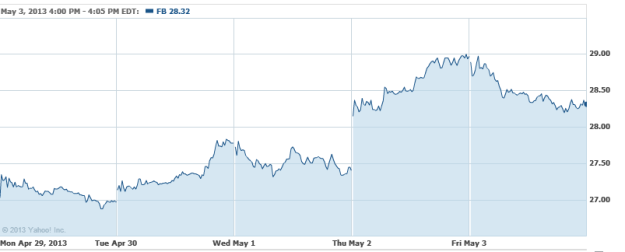 Hewlett-Packard Co. (NYSE:HPQ): Closing price $20.63
On Tuesday, HP announced an array of switches that support OpenFlow, which is open-source software that renders routers and switches programmable and much more flexible.  Senior Vice President and General Manager Networking, Bethany Mayer explained to Arik Hesseldahl at  AllThingsD that "The idea is that we're trying to create more automation, less constraint, and have the network be more abstracted so that there are few manual processes in the data center. It's meant to bring more simplification and flexibility to the data center. In all of these products we have enabled OpenFlow. We now have 40 platforms that are OpenFlow-enabled. And we have about 20 million ports out there in the marketplace today that are OpenFlow-ready."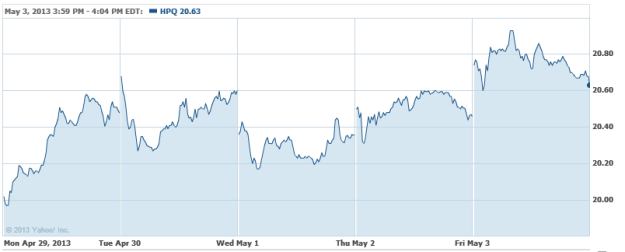 Sprint Nextel Corporation (NYSE:S): Closing price $54.98
Zacks Equity Research is reporting that Sprint seems to be financing Clearwire Corporation (NASDAQ:CLWR) under its buyout arrangement, adding that  Sprint will supply an additional $80 million to Cleawire in May, allowing lesser scope for DISH Network Corp.'s (NASDAQ:DISH) takeover plan to be completed even given its being a lucrative offer. In Dec 2012, Sprint reached an agreement to purchase the remaining 50 percent interest in Clearwire for $2.97 per share, aggregating to around $2.2 billion. Beyond that, the firm also offered Clearwire a financing arrangement of $800 million which  can be drawn in installments.
Are these stocks a buy or sell? Let us help you decide. Check out our Stock Picker Newsletter now.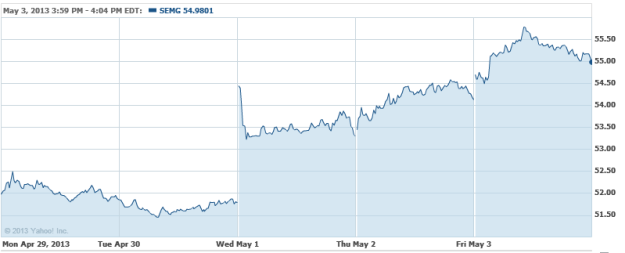 Don't Miss: Can Siri Take on Google Now on Her Home Turf?
T-Mobile US (NYSE:TMUS): Current price $17.50
On Wednesday, Deutsche Telekom AG and T-Mobile US have announced the finalization of the combination of T-MobileUSA and MetroPCS Communications, so as to provide wireless consumers new choices as it delivers a new experience. The combined company, T-Mobile US, will begins trading on the New York Stock Exchange immediately under the ticker TMUS. President & Chief Executive Officer of T-Mobile US John Legere said that "the combination forms a stronger disruptive force in the U.S. wireless market. Together, as Americas Un-carrier, we'll continue our legacy of marketplace innovation by tearing up the old playbook and rewriting the rules of wireless to benefit consumers."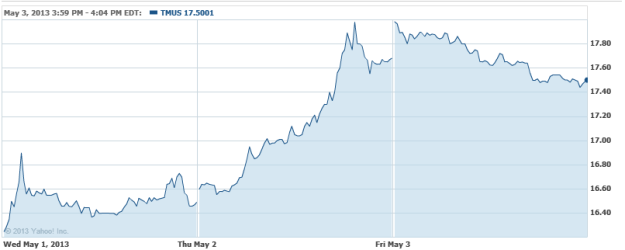 Fusion-io (NYSE: FIO): Current price $18.27
The firm announced on Wednesday that Dr. Pankaj Mehra has been hired as chief technology officer and senior vice president. Mehra has been advising the Fusion-io office as chief technical officer in recent months, and brings over 20 years of world experience in the development of innovative hardware and software technologies to Fusion-io. Mehra will manage the research of core tech across the Fusion-io product portfolio, and develop strategies for working jointly with Fusion-io partners and industry standards associations. He succeeds Neil Carson, who served as Fusion-io CTO since March 2010.
Are these stocks a buy or sell? Let us help you decide. Check out our Stock Picker Newsletter now.

Alcatel-Lucent (NYSE: ALU): Current price $1.33
The company has extended a tender offer for the acquisition of certain of its outstanding notes and bonds, up to a maximum total amount of 750 million euros. The bond and note tender offer is subsequent to Alcatel-Lucent closing a 2 billion euro senior credit facility in January, with the proceeds, which wee received in the first quarter, to be applied in the management of Alcatel's debt maturity, along with other corporate purposes.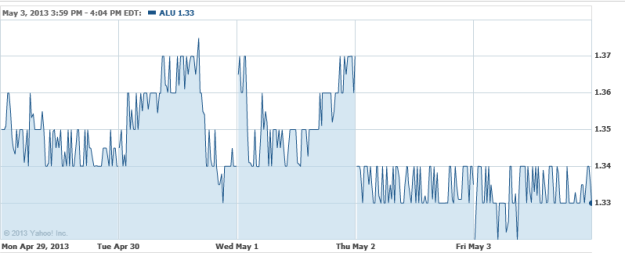 Microsoft Corporation (NASDAQ:MSFT): Current price $33.46
A tech development firm in New York, CopyTele, has sued Microsoft over claims that its web-conferencing service, Skype, infringed encryption-related patents.  The firm said it filed a complaint in federal court in Brooklyn, alleging that Skype infringed two patents for tech that aids in maintaining secure Web-based communications. According to a copy of the complaint provided by the firm, CopyTele is seeking unspecified damages but the original filing could not be immediately confirmed in court records. Chief Executive Robert Berman commented in a statement that "these encryption patents are a prime example of the enormous, untapped potential at CTI, adding that the patents have "tremendous value" that was "masked" under the previous management.
Are these stocks a buy or sell? Let us help you decide. Check out our Stock Picker Newsletter now.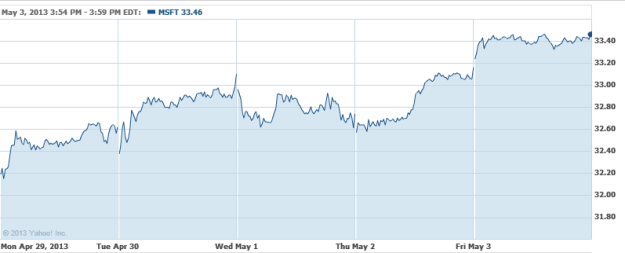 Investing Insights: Is Seagate a Sensible Investment?
Yelp (NYSE:YELP): Current price $31.04
Yelp trimmed its first-quarter losses while local merchants purchased more ads to link with a still-expanding audience that depends upon the online business review site for recommendations on things like restaurants and termite inspectors. This progress made during the period emboldened Yelp to reinforce its financial forecast farther than Wall Street's expectations, causing a 10 percent jump in the share price after the first-quarter numbers and management's outlook appeared late on Wednesday.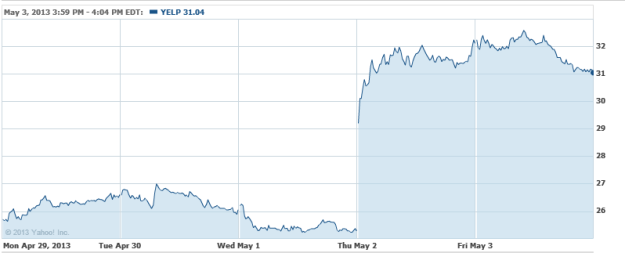 LinkedIn (NYSE: LNKD): Current price $175.24
The company has added the ability to upload videos, images, and visual presentations to LinkedIn profiles, permitting professionals having visual skills to show what they have created, and also to illustrate professional accomplishments. LinkedIn remarked on its blog: "From the analyst who makes annual predictions on tech trends to the 3D animator who is looking to fund a new short film, the opportunities are limitless for how professionals can now use the LinkedIn profile to help showcase these unique stories in a visual way." Now, content can be uploaded from a computer, or imported from other websites, and other LinkedIn members can 'like' and comment on the visual portfolios.
Are these stocks a buy or sell? Let us help you decide. Check out our Stock Picker Newsletter now.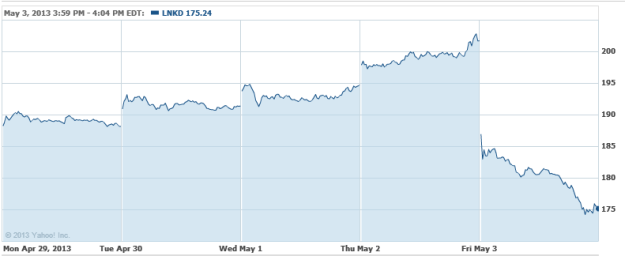 Investing Insights: Is AOL A Buy?