The Housing Market Is Still Trying to Break This Downtrend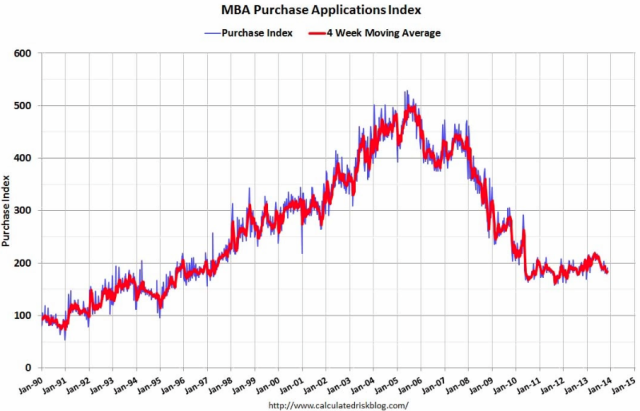 Applications for home loans declined for the fourth consecutive week as interest rates continue to rise and add to housing affordability concerns. According to the Mortgage Bankers Association's latest report, for the week ended November 22, loan applications dipped 0.3 percent on a seasonally adjusted basis from one week earlier, the 21st drop in only 28 weeks. That followed a decline of 2.3 percent in the previous week.
The figure includes both refinancing and home purchase demand and covers more than 75 percent of all domestic retail residential mortgage applications. Furthermore, the seasonally adjusted purchase index decreased 0.2 percent from the prior week and is near its worst level since December 2012.
On a positive note, the industry group's refinance index edged 0.1 percent higher from a week earlier. Overall, the refinance share of mortgage activity accounted for 66 percent of total applications compared to 64 percent from a week earlier and only 7 percentage points above its lowest level since April 2010.
The average interest rate for a 30-year fixed-rate mortgage increased from 4.44 percent to 4.48 percent, the highest rate in a month. The most recent average rate for a 15-year fixed-rate mortgage came in at 3.52 percent, unchanged from the prior two weeks.
Even though interest rates are low on a historic basis, affordability is near its worst level in about five years due to surging home prices. In September, home prices increased 0.3 percent on a seasonally adjusted basis and have now climbed higher for 19 consecutive months, according to the Federal Housing Finance Agency. Home prices have also gained for nine consecutive quarters, and the FHFA index is higher than it was five years ago for the first time since 2009.
Don't Miss: Are Americans Feeling Better About Their Financial Security?
Follow Eric on Twitter @Mr_Eric_WSCS