The Housing Market Responds to Rising Interest Rates
The housing recovery reinforced the belief that it is heavily dependent on low interest rates induced by the Federal Reserve, as mortgage applications declined for the first time in over a month.
According to the Mortgage Bankers Association's latest report for the week ending May 10, loan application volume fell 7.3 percent on a seasonally adjusted basis from one week earlier. This comes after a 7 percent increase. These figures include both refinancing and home purchase demand, and cover over 75 percent of all domestic retail residential mortgage applications.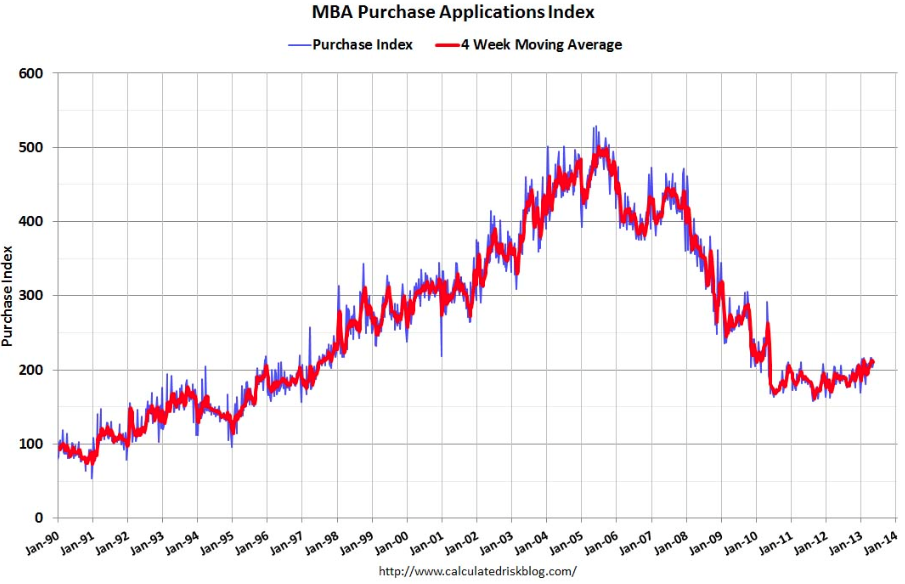 The industry group's Refinance Index dropped 8 percent. In the previous week, the Refinance Index hit its highest level since December 2012. Meanwhile, the Purchase Index decreased 4 percent after reaching its highest level since May 2010 in the prior week.
Overall, the refinance share of mortgage activity remained unchanged at 76 percent of total applications. The refinance share declined for ten straight weeks earlier this year, but currently stands at its highest percentage in about three months.
The average interest rate for a 30-year fixed-rate mortgage came in at 3.67 percent, up from 3.59 percent in the prior week. This is the highest rate since the beginning of April. In comparison, the week ending March 15 posted the highest contract rate since August 2012 at 3.82 percent. The most recent average rate for a 15-year fixed-rate mortgage also increased from 2.81 percent to 2.88 percent.
The MBA report is the latest sign that the housing recovery is still in progress and needs more time to play out. Earlier this month, CoreLogic reported that home prices increased 10.5 percent year-over-year in March. It was the thirteenth consecutive gain in home prices and the biggest year-over-year jump since 2006.
In morning trading, shares of home-builder names such as PulteGroup (NYSE:PHM) and Lennar (NYSE:LEN) edged slightly lower, while home improvement giants such as Home Depot (NYSE:HD) and Lowe's (NYSE:L) increased a bit higher.
Don't Miss: Is the Average Joe Still Buying Apple?