The Mosaic Company Buys Another Fertilizer Asset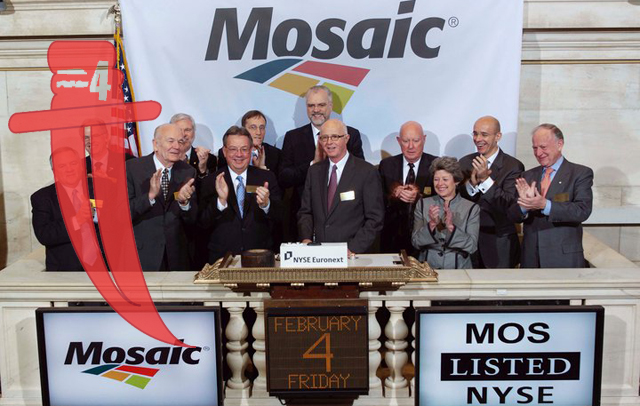 On Tuesday we learned that the Mosaic Company (NYSE:MOS) agreed to buy fertilizer distribution assets from Archer Daniels Midland (NYSE:ADM) in Brazil and Paraguay.
Mosaic has probably been the best managed fertilizer company during the downturn began in 2010 and 2011. The company accumulated a tremendous cash position in the weak market environment — $5.4 billion at the end of December versus a valuation hovering around $20 billion, although keep in mind that $1.2 billion goes to CF Industries (NYSE:CF) for its phosphate business. Clearly management was able to forecast the downturn in fertilizer prices, and now it is extremely well positioned to develop new assets and to make acquisitions.
Nevertheless the company's shares have been extremely weak. Not only has the company been hit by falling fertilizer prices, but there has been selling pressure given that Cargill — a privately owned agribusiness conglomerate — has been selling its two-thirds stake in the company for years.
But this doesn't impact the fundamental strength of Mosaic's business. With fertilizer prices down the company has begun to deploy its large cash position. As previously mentioned it purchased CF Industries' phosphate business for $1.2 billion. This deal was reached last year, and it was finalized in the first quarter of this year. Now the company has made another deal for Archer Daniels Midland's fertilizer distribution assets in Brazil and Paraguay.
This not only continues the company's deployment of capital in a depressed market environment, but it helps the company move forward on its goal of expanding its foot print in Brazil. This is extremely important — Brazil is one of the world's largest grower of crops. In particular it is a leading producer of coffee, sugar, and soybeans. By expanding into Brazil Mosaic is positioning itself to benefit from long term demand growth for these commodities.
Nevertheless the future still seems somewhat murky for Mosaic and its peers in the fertilizer industry. While the two asset sales to Mosaic near the bottom signify capitulation, a "V-shaped" bottom in fertilizer assets seems unlikely. There is a lot of supply entering the market, especially since Russia's top potash producer — Uralkali — decided to break its agreement to limit production in order to maximize profitability in the near term. This announcement really hit fertilizer companies hard last summer, and while I think it signified a bottom there is still a fair amount of supply in the market.
As a result I would buy Mosaic shares for the long term, but I would do so slowly over an extended period of time on weakness. The stock seems to be trading in a range with a lot of resistance at $50 per share and support in the mid-$40s. If investors accumulate a few shares each time the lower end of the range is hit, then I think they will be extremely happy they did so in the long run, although it is going to be a very slow process for the next year or so.
Ultimately this deal with Archer Daniels Midland reaffirms my conviction that Mosaic is the best large cap fertilizer investment. Only Mosaic's management accumulated cash when fertilizer prices were high and began deploying it when prices were low. This tells me that management has excellent insight into the nature of the fertilizer industry, and that it is more concerned with creating long term shareholder value than with creating short term optimism so that executives can cash out of their stock options. The Archer Daniels Midland deal fits into this narrative perfectly, and it shows that the company is on track to become the world's leading fertilizer company in a world where a growing population and a greater demand for agricultural efficiency will drive fertilizer prices much higher in the long run.
Disclosure: Ben Kramer-Miller is long shares of the Mosaic Company and of CF Industries.
More From Wall St. Cheat Sheet: