The Most Obvious Reason Why Apple Inc. Shares Are Undervalued Today
The Research in Motion Blackberry (NASDAQ:RIMM) is yesterday's Sony (NYSE:SNE) Walkman. Nokia (NYSE:NOK) is yesterday's hot phone maker at Best Buy (NYSE:BBY). However, Apple Inc. (NASDAQ:AAPL) is today's most dominant and diversified high-growth technology company.
Apple possesses a high 'cool' factor and has managed to diversify its product line following its tech bubble stock crash in the early 2000s. Apple Inc. (NASDAQ:AAPL) is now a huge player in the following product lines: iPod (music), iTunes (media buying platform), iMac (Personal Computer), MacBook (laptop), iPhone (mobile phone), iPad (tablet market)…and next up iCloud (cloud computing/data storage).
Today, shares of Apple Inc (NASDAQ:AAPL) are trading at $321.18 per share, $1.38 below the company's last closing price in December of 2010 ($322.56)!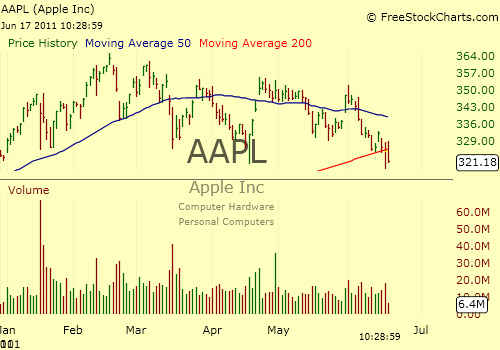 Call me crazy, but Apple Inc. (NASDAQ:AAPL) has delivered on every front in 2011 (read: Apple's Earning Cheat Sheet here) and continues to do so. Walk into any mall in America and the Apple Store is where the bodies are buzzing with entertainment and gaga for cool gadgets.
Meanwhile, Research in Motion (NASDAQ:RIMM), home to the fading Blackberry and the late-to-the-game Playbook tablet, is getting hammered today on yet another reduced forecast. The stock is down over 20% today: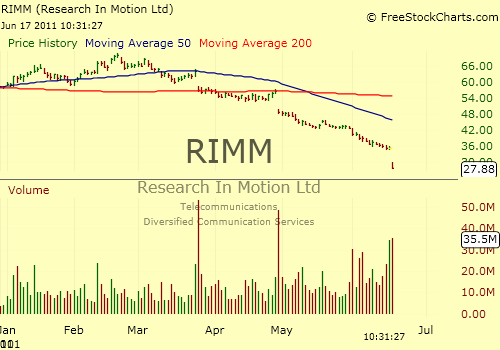 Also, Nokia (NYSE:NOK) has been a dog of a stock recently. The pressure is mounting on the cash-rich company to deliver a winning product to market that can compete with the heat of the Apple iPhone. Hand over fist, Apple is eating into the multi-billion dollar market share of the other mobile phone players. Nokia's 7+% dividend is nice, but Nokia needs a new catalyst fast.  Shares of Nokia are trading at $6.04 per share today: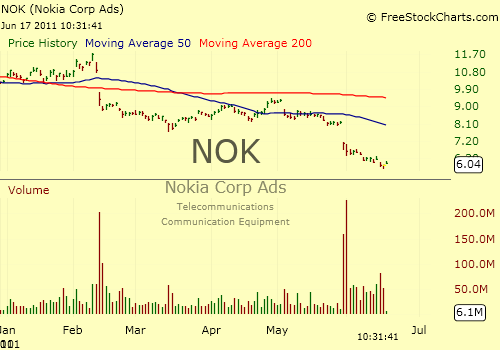 With all this being said, take note that Research in Motion (NASDAQ:RIMM) shares are down over 40% from their 2011 high and Nokia (NYSE:NOK) shares are down over 15% from their 2011 high. If both companies are seeing a major hit to their market share, then consequently one must conclude, 'Who is winning?' The simple and most obvious answer: Apple Inc (NASDAQ:AAPL). Are you buying stock in Apple? All indicators are pointing to the 'bid' button today…
Competitors to Watch: Google Inc. (NASDAQ:GOOG), Hewlett-Packard Company (NYSE:HPQ), Dell (NASDAQ:DELL), Microsoft (NASDAQ:MSFT), Adobe (NASDAQ:ADBE), IBM (NYSE:IBM), Intel (NASDAQ:INTC), Super Micro (NASDAQ:SMCI), Verizon (NYSE:VZ) and Research In Motion Limited (NASDAQ:RIMM).
Disclosure: Very satisfied user of Apple's Macbook Pro, iPod, iPad, and iTunes…
Father's Day is Approaching June 19th: Make Your Father the Rich Dad with Wall St. Cheat Sheet's Winning Newsletter!