The Navigators Group Earnings: Swing to a Loss After Two-Straight Profit Quarters
The Navigators Group, Inc. (NASDAQ:NAVG) swung to a loss in the first quarter. Navigators Group is an international insurance holding company focusing on specialty products within the overall property/casualty insurance market.
Don't Miss: Wall St. Cheat Sheet's newest Feature Trades of the Month!
The Navigators Group Earnings Cheat Sheet for the First Quarter
Results: Swung to a loss of $7.9 million (50 cents/diluted share) in the quarter. The Navigators Group, Inc. had a net income of $17 million or $1 per share in the year earlier quarter.
Revenue: Fell 10.5% to $169.2 million YoY.
Actual vs. Wall St. Expectations: NAVG reported adjusted earnings per share of 77 cents. By this measure, the company fell in line with the mean analyst estimate of 77 cents/share. Estimates ranged from 71 cents per share to 81 cents per share.
Quoting Management: Navigators' Chief Executive Officer Stan Galanski commented: "During the first quarter of 2011 the industry experienced an extraordinary level of natural catastrophe and large energy losses. While our losses reported to date from the Japanese earthquake have not been significant, we participated on two major industry losses in the energy sector that pushed our combined ratio above 100%. The increased frequency of large loss activity in both the onshore and offshore energy business, coupled with the industry's property cat loss levels, highlights the need for underwriters to achieve rate increases in these areas. Our ocean marine business had a solid quarter and we are encouraged by the initial market reception of Navigators Re, which was the principal contributor to our premium growth in the quarter. We continue to take a cautious view of the U.S. D&O market, as rate levels continue to be suppressed to levels not reflective of the current litigation environment."
Key Stats:
NAVG's loss in the latest quarter follows profits in the previous three quarters. The company reported a profit of $17.3 million in the fourth quarter of the last fiscal year, a profit of $16.2 million in the third quarter of the last fiscal year and $19 million in the second of the last fiscal year.
Competitors to Watch: W.R. Berkley Corporation (NYSE:WRB), Allied World Assurance Co Hldgs., AG. (NYSE:AWH), RLI Corp. (NYSE:RLI), White Mountains Insurance Group, Ltd. (NYSE:WTM), The Travelers Companies, Inc. (NYSE:TRV), Markel Corporation (NYSE:MKL), Global Indemnity plc (NASDAQ:GBLI), Tower Group, Inc. (NASDAQ:TWGP), and CNA Financial Corporation (NYSE:CNA)
Stock Performance: Shares of NAVG are unchanged from the previous close.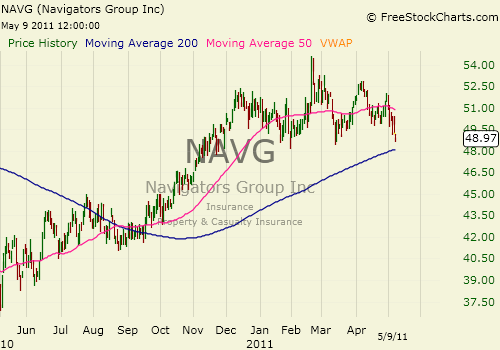 Don't Miss Wall St. Cheat Sheet's newest Feature Trades of the Month!