The New Corvette Stingray Sips Rather Than Swills
While one doesn't buy a Ferrari for its gas mileage, it's getting hard to say the same about the new C7 Corvette from Chevrolet, which is a division of General Motors Co. (NYSE:GM). In addition to its refreshed looks and new engine, the engineers at GM wanted to do away with one of the bigger gripes about high performance cars (aside from the price): the less than impressive record for sub-par fuel economy.
And do away with the complaints, the engineers did. While the new Corvette still sports an impressive 455 horsepower and 460 ft-lbs of torque, it also boasts a city economy rating of 17 miles per gallon, which is nothing to sneeze at. However, that number pales in comparison to the alleged 29 miles per gallon that the Corvette will return on the highway — at least according to EPA estimates.
"The Corvette Stingray establishes the benchmark for modern performance cars by using technologies to deliver more performance and more miles per gallon," said Tadge Juechter, executive chief engineer for the Corvette, in the company's press statement. "We expect more and more performance cars will follow Corvette's example."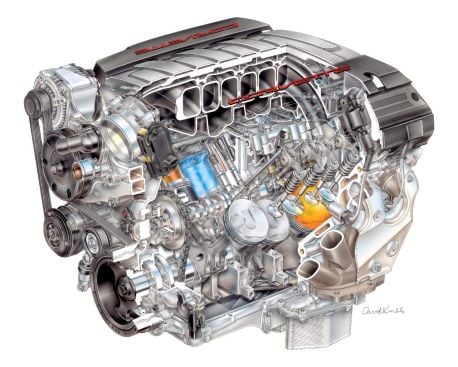 The 29 miles per gallon figure comes from the combination of Tour mode, which returns 28 highway miles, and Eco mode, which offers 30. While a Corvette offering an Eco setting sounds odd, it's because it is — but that doesn't make the Corvette any less of a performance vehicle. Remember, this is still a 6.2 liter V8 that we're talking about, albeit one with a very effective cylinder deactivation system.
The 11 percent bump in fuel economy over the previous generation was achieved via the aforementioned cylinder deactivation and a new seven-speed transmission, which is available on some models. The numbers for the six-speed automatic will be finalized soon, the company notes. In the release, GM compares the Corvette's figures to the Porsche 911 Carrera S, which packs 400 horsepower but only manages 27 miles per gallon on the highway.
Here's how shares of General Motors have traded so far in 2013: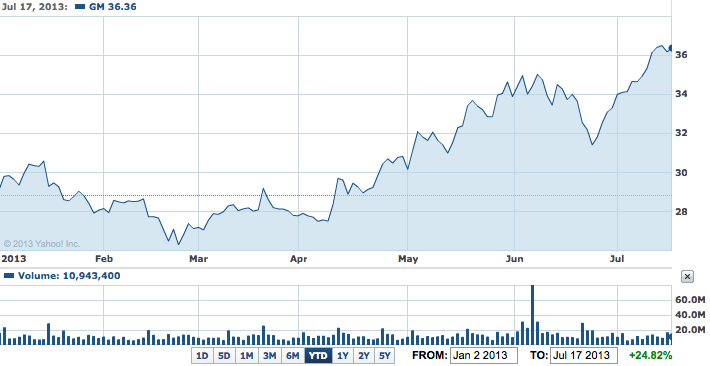 Don't Miss: What Up, Tesla: Nasdaq Wins Over Elon Musk.