The Rebound in Gold and Silver Continues
On Monday, gold (NYSE:GLD) futures for December delivery rose $35 to settle at $1,670.80 per ounce, while silver (NYSE:SLV) futures jumped 99 cents to settle just under $32.  Gold and silver continue to claw their way back after a steep September selloff.
The US dollar (NYSE:UUP) declined against the euro as new developments from the Eurozone surfaced today.  Just three months after passing a Euro stress test with flying colors, Belgium has agreed to buy the local consumer-lending unit of Dexia for 4 billion euros ($5.4 billion), and will guarantee 60% of a so-called bank to set up for Dexia's troubled assets. The bailout was inevitable as European sovereign debt worries caused the bank's short-term funding to vanish. Dexia's agreement to nationalize its Belgian banking division and receive state guarantees paves the way for other eurozone governments to provide rescue packages to strengthen banking sectors.  As a result, the Dow (NYSE:DIA) opened more than 200 points higher, as precious metal (NYSE:DBP) names also rallied.
POPULAR: The Eurozone Lights a Fire Under Gold and Silver.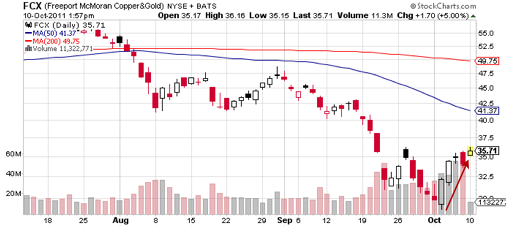 Gold miners (NYSE:GDX) such as Barrick Gold (NYSE:ABX) Yamana Gold (NYSE:AUY) traded more than 2% higher during trading on Monday.  Our premium newsletter gold dividend player, Newmont Mining (NYSE:NEM), traded nearly 3% higher.  Silver miners (NYSE:SIL), which are often more volatile but see more upside than gold, also had strong performances.  Endeavour Silver (AMEX:EXK) and First Majestic Silver (NYSE:AG) jumped 4.5% in afternoon trading.  As the chart above shows, with a rebound in copper prices (NYSE:JJC), shares of Freeport-McMoRan Copper & Gold (NYSE:FCX) continue its bounce higher that started last week. Shares have rebounded nearly 24% since the lows made last Tuesday.
If you would like to receive more professional analysis on equity miners and other precious metal investments, we invite you to try our premium service free for 14 days.
POPULAR: What Does the Unemployment Picture Mean for Precious Metals?>>