The "Recovery" is Still Missing on Main Street
Although stocks continue to hang near all-time nominal highs, the recovery on Main Street is still lacking to say the least. Pessimism among small business owners declined last month and is now below the average since the recession technically ended in 2009.
The National Federation of Independent Business, the leading nonprofit small business association representing small and independent businesses, reported that its Small Business Optimism Index dropped 1.3 points in March to 89.5, compared to 90.8 in the previous month. March's reading is only slightly above December's level of 88.0, which was the second worst reading since March 2010. In the 44 months of economic expansion since the beginning of the "recovery" in July 2009, the index has averaged 90.7.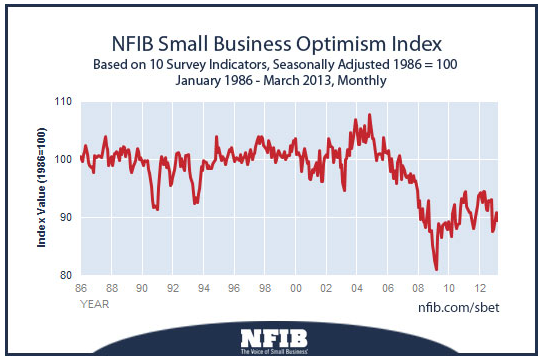 Optimism among small business owners has been slowly climbing higher since December, but it was another false move. Consumers and businesses still face too much doubt about the future, and remain cautious about spending habits…
Bill Dunkelberg, chief economist at the NFIB, explains, "After another false start, small business confidence has sputtered and stalled again. For the sector that produces half the private GDP and employs half the private sector workforce – the fact that they are not growing, not hiring, not borrowing and not expanding like they should be, is evidence enough that uncertainty is slowing the economy. Virtually no owners think the current period is a good time to expand, because they simply don't know what the future holds. So why invest? And with the lack of any sustainable fiscal policy or a federal budget, no one's banking that Washington will be at forefront of any meaningful change. Overall, it appears that there will be little growth coming from the small business half of the economy; as the world economy slows, even big business may suffer."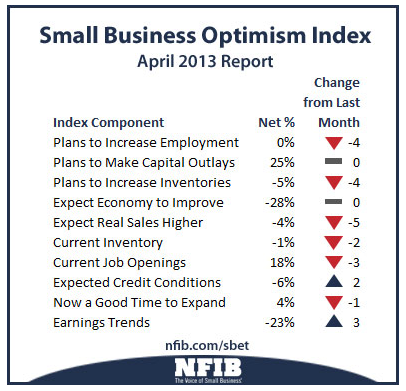 Of the ten index components, only two showed gains, while six declined. Two components were unchanged. The greatest declines were seen in plans to hire, plans to increase inventories, and sales expectations.
Only four percent of owners said it was a good time to expand their business in March, down 1 point from the previous month. The net percent of owners expecting better business conditions in six months was a net negative 28 percent, unchanged from February. These readings are among the lowest in the 40-year history of the NFIB survey.
Sales remain in negative territory for small businesses. The net percent of all owners reporting higher nominal sales over the past three months improved by 2 points, but remains at negative 7 percent. Seventeen percent of small employers cite weak sales as their top business problem. Taxes and government red tap were the top two problems at 23 percent and 21 percent, respectively.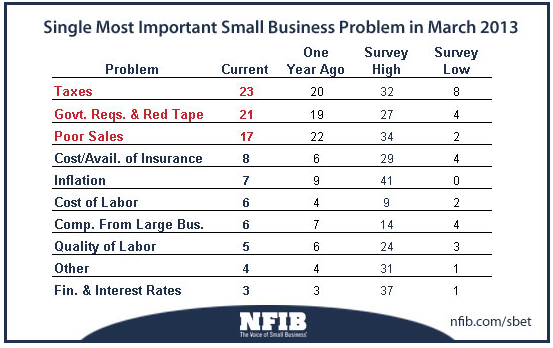 Naturally, job creation remains low and will continue to weigh on consumer confidence. Overall, 44 percent of surveyed small business owners reported adding jobs or trying to add jobs over the past three months. However, job creation plans fell 4 points to a net 0 percent.
Don't Miss: Are Investors Running to the Hills with Jim Rogers?