The Solar Industry Is About to Have Its Day in the Sun
It's been a long, winding road for solar energy. The industry itself has been held back for many years, if not decades, by high costs, low adoption rates, and slowly-evolving technology. But that seems to be changing, and fast, particularly in the last several years. Suffice it to say, the industry may finally be getting its day in the sun.
"From 2010 to 2014, employment in the solar energy industry grew by more than 85%," reads The Economic Report to the President, submitted by the Council of Economic Advisors for February 2015. "Moreover, employment in the solar industry is projected to increase by another 21% in 2015." While it's clear that renewables like wind and solar power still lag well-behind their fossil fuel counterparts, that gap is closing, and the government aren't the only ones taking notice.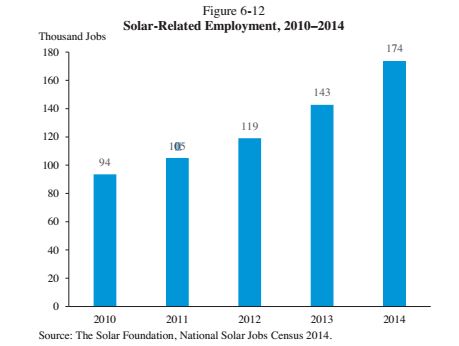 A recent article from Slate details how many big businesses are also buying in on the solar industry, which may ultimately threaten rival industries like coal. Specifically, Slate points to recent investment decisions by Apple, Procter & Gamble, and Kaiser Permanente to sign up for huge energy deals with solar and wind power companies, which will not only help the public image of these firms, but also help lower their emissions and carbon footprint. Daniel Gross, the author of the Slate piece, says that the decisions being made by these big companies has less to do with PR, and more to do with the fact that the renewable energy industries are finally able to compete price-wise with fossil fuels.
"What you're seeing is that as energy prices move to the north, the cost of installation is going down and we're delivering competitive energy," SolarCity's VP of commercial sales Erik Fogelberg told Slate. Gross concludes that corporate mentalities are shifting to using green power because it's becoming more affordable, not because they're willfully purchasing renewable energy at higher prices to meet sustainability goals or anything else.
In other words, renewable energy has caught up.
Yet another article from Slate further supports the notion that the solar energy is reaching critical mass. Getting back to job growth within the solar sector itself, Slate author Jordan Weissmann says that the solar industry now actually employs more workers than the coal industry. The total number of workers comes in at 174,000, which is supplied by The Solar Foundation, a Washington D.C.-based solar advocacy group.
"Over the next 12 months, solar companies expect to add a total of 36,000 new solar workers, representing 20.9% employment growth over 2014," the Solar Foundation writes. "This estimate compares with a projected 1% increase in employment in the overall economy over the same period."
While those numbers show definite growth and confidence in the industry, there are still some bumps in the road ahead. Namely, changes to tax incentives that are scheduled to hit in the near future may end up actually hurting the industry, just as it begins to hit its stride. "Approximately 75% of businesses indicated the 30% ITC (federal investment tax credit) has significantly helped their business," the Solar Foundation says. "Despite its importance, the 30% ITC is scheduled to drop down to 10% for commercial projects, and disappear completely for residential, a change that 60% of companies expect will impact their future business prospects."
If those tax incentives are allowed to change, as they are scheduled to, the result could be workforce reductions, and higher prices for the end user — the barrier to entry that has kept so many from adopting renewables in the first place. With that in mind, does it make sense for regulators to keep tax incentives in their current form, in order to spur the industry on? Many don't like the idea of a "handout" of sorts to big business, and these incentives seem to be artificially propping up the industry, and allowing it to grow.
But we must also keep in mind that the fossil fuel industries are also heavily-subsidized. In fact, Bloomberg reports that while renewable energies are receive $120 billion in annual subsidies, fossil fuels get four times that much — $550 billion. There's a reason that the gas you buy at the local Shell station is so cheap, after all.
Solar is set to have its breakthrough within the next several years, but it appears to be dependent upon the government's help. Either way, renewables are in a lot better shape now, and have a much brighter future, than even just a few years ago.
More from Business Cheat Sheet: