The S&P 500 Says Hello to A New Record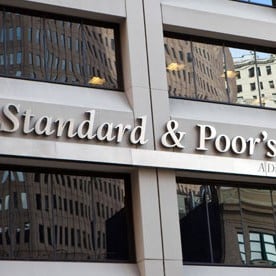 After tracing a path for several days that came enticingly close to its record high but never quite took it there, the Standard & Poor's 500-stock index, a broad measure of the U.S. stock market, broke through its previous record high. On Thursday morning, just after 10:30 a.m. New York time, the benchmark index reached its highest level since the bull market began in March 2009.
The previous closing high of 1,565.15, set on October 9, 2007, was a tantalizing goal, especially as the new high, if it sticks, will completely erase the approximately 57 percent lost during the 2007 to 2009 bear market. But the record high was also a maddening goal, as the S&P 500 began the day 2.30 points from the all-time high, and then it inched up to within 0.06 points before falling back down. This pattern has been followed for the past two days.
With the index trading so close to its record and other indices surpassing their record highs — most notably the blue-chip Dow Jones industrial average — analysts and investors have been anxiously awaiting this moment. But already, gains have been strong throughout the first three months of the year; the Dow has risen close to 11 percent while the S&P and Nasdaq indices have made gains of almost 10 percent…
This movement on the stock charts has inspired confidence on Wall Street. "The bull market is four years old, yet it remains strong," Ed Yardeni, chief investment strategist at Yardeni Research told USA Today, noting that economic reports continue to show recoveries in job growth, home building, and manufacturing. Also, concerns about the federal budget have been temporarily pushed out of mind, he said.
But not all analysts share his enthusiasm. Some on Wall Street even warn of a near-term pullback. "We are at a point short-term where you can flip a coin" as to whether stocks will maintain their upward momentum or give back some of the gains, Leo Kelly, managing director at HighTower's Kelly Wealth Management, told the publication.
Yet his long-term assessment was much more optimistic. "Stocks … are one of the investment vehicles that are going to make a decent rate of return. You won't be able to make a return on bonds" with prices at near record highs and yields at record lows, he added…
Problems at the international level may temper the enthusiasm in the American markets. Authorities in Cyprus have implemented measures to prevent large numbers of euros from being withdrawn from its banks by anxious depositors after the two-week long closure ended. IG Markets' Evan Lucas told the publication that the European Union's proposed bailout deal — which mandated that Cyprus levy a tax on deposits greater than 100,000 euros — has sparked fears that such a strategy may be used with other European nations facing similar problems.
Thanks to the worries about Europe, Wall Street stocks closed lower on Wednesday, for the most part, with the Dow ending the day down 0.2 percent and the S&P off by 0.1 percent.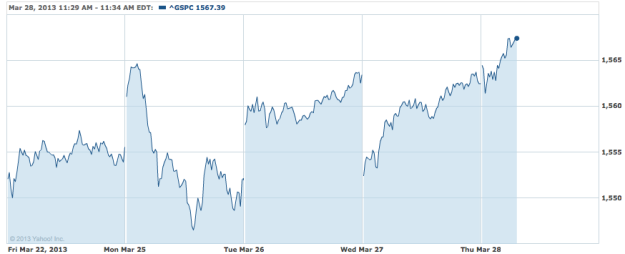 Don't Miss: Banks Open in Cyprus: Is This Good News?