The Student Debt Bubble Reaches a New Record
The record amount of student debt in the U.S. continues to get bigger and more bubblicious by the day. New research shows that while Americans are still deleveraging in most areas of their life, the burden of student debt is not being erased.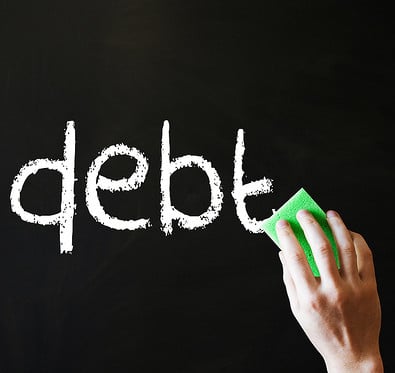 In the first three months of 2013, total outstanding household debt declined $110 billion from the previous quarter to $11.23 trillion, according to the latest Household Debt and Credit Report from the Federal Reserve Bank of New York. In comparison, household debt peaked at $12.68 trillion in the third quarter of 2008. Mortgage debt decreased from $8.03 trillion to $7.93 trillion, while credit card balances fell $19 billion to $660 billion.
"After a temporary deceleration in the previous quarter, the data suggest that household deleveraging has resumed its previous trajectory," said Wilbert van der Klaauw, senior vice president and economist at the New York Fed. "We'll look to see if this pace of debt reduction and delinquency improvements will persist in upcoming quarters."
However, household outstanding student loan debt jumped $20 billion to $986 billion, a fresh all-time high. In fact, mortgages are the only debt outstanding that is greater than student loans. The Consumer Financial Protection Bureau believes total student debt outstanding has already passed the $1-trillion mark.
On the positive side, the New York Fed reports that the number of borrowers who have fallen behind on their student debt by at least 90 days edged lower to 11.2 percent in the first quarter, compared to 11.7 percent in the fourth quarter of 2012. This is still the second highest delinquency rate on record though. Prior to the financial crisis, the average student loan delinquency rate averaged roughly 7 percent.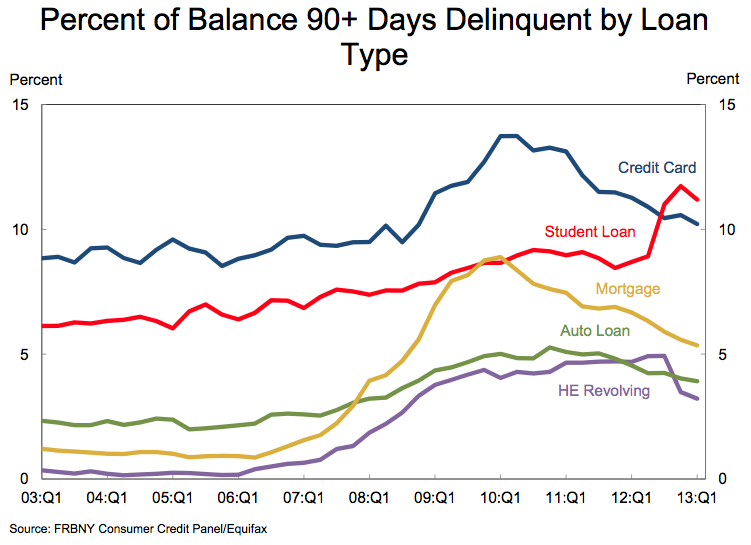 Interestingly, the delinquency rates of student loans are likely even higher than reported. In the fine print of a previous report, the Fed explains: "These delinquency rates for student loans are likely to understate actual delinquency rates because almost half of these loans are currently in deferment, in grace periods or in forbearance and therefore temporarily not in the repayment cycle. This implies that among loans in the repayment cycle delinquency rates are roughly twice as high."
Students are also more likely than ever to take out a loan to pay for college. The average price of college tuition increases an average of 8 percent a year, meaning the cost of tuition doubles about every nine years. This outpaces almost every other kind of inflation that is widely tracked. Using debt to obtain a degree can be beneficial if done properly, but a weak job market and stagnant incomes are weighing on graduates.
Borrowers are struggling to repay student loans. In only the first two months of 2013, banks declared $3 billion of student loan debt as noncollectable, according to Equifax's latest National Consumer Credit Trends Report. This represents a 36-percent surge from the same period last year.
"Driven heavily by economic factors, including unemployed or under-employed consumers going back to school along with the rising cost of tuition, student lending has demonstrated consistent, year-over-year growth," said Equifax Chief Economist Amy Crews Cutts. "Continued weakness in labor markets is limiting work options once people graduate or quit their programs, leading to a steady rise in delinquencies and loan write-offs."
Don't Miss: Does the Housing Recovery Remain Intact for Home Builders?