The Top 3 Ways To Save For Your Child's Education
Are you saving enough for your child's education? According to Sallie Mae's, "How America Saves for College 2014" study, some 51 percent of parents with children under 18 are saving for college, up ever so slightly from 50 percent in 2013. That's a good thing because college is expensive—very expensive.
The average budget for an in-state public college for the 2014–2015 academic year is about $29,110. And an average budget for a live-in student at a private college tops out at $62,740. That includes tuition, fees, housing and meals, books and school supplies, as well as personal and transportation expenses.
Today, four years at a private college works out to about $250,960. But it's a given that figure will increase dramatically by the time your one-year-old son or daughter graduates from high school. Student loans and, in some cases, scholarships, will cover some of your child's college education—but what about the rest? And what if you have two, three, four, or more children?
With those figures still fresh in your mind, here are three ways you can start saving for your child's education:
1. 529 Plans
A 529 plan is designed to encourage saving for future college costs. 529 plans are sponsored by states, state agencies, or educational institutions and are authorized by Section 529 of the Internal Revenue Code. You'll also get some tax breaks with these plans. When your child reaches college age, withdrawals used for qualified higher ed expenses won't be subject to federal income taxes and, in many cases, state taxes.
You can use 529 plans to cover the costs of qualified colleges across the U.S. With most plans, the school you choose does not have to be in the state where you set up your 529 plan. All 50 states and the District of Columbia sponsor at least one type of 529 plan. Because plans can differ from state to state, you should research the various plans, comparing their features and benefits, before you invest. Savingforcollege.com is a great resource.
There two types of 529 plans: prepaid and savings plans. Prepaid tuition plans let you prepay some or all of the costs of an in-state public college. Most pre-paid tuition plans are sponsored by state governments and have residency requirements. The advantage of this plan is that you can buy tuition credits at a college in your state at current tuition rates rather than paying for the cost of college in 17 or 18 years. Many state governments guarantee investments in prepaid tuition plans that they sponsor. The Private College 529 Plan is a separate prepaid plan for private colleges.
With a 529 savings plans, you invest in mutual funds or similar investments. You'll have a choice of several investment options. Of course, your account will increase or decrease based on how the particular option you select performs.
[caption id="attachment_644527" align="aligncenter" width="640"]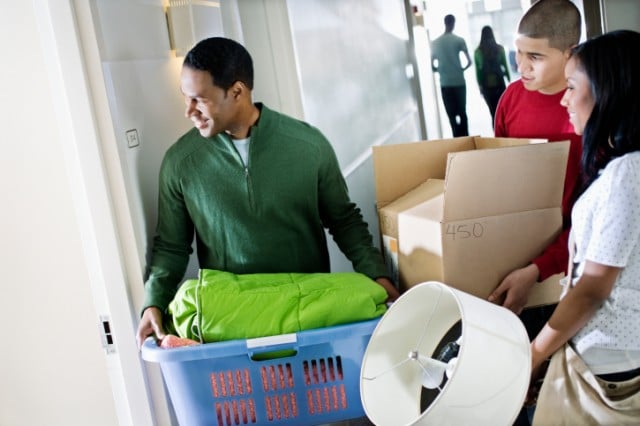 Source: Thinkstock[/caption]
2. UGMA and UTMA Accounts
The Uniform Gifts to Minors Act (UGMA) and the Uniform Transfers to Minors Act (UTMA) are types of custodial accounts that are set up by an adult on behalf of a minor. The adult custodian (you, or a person you designate) controls the money—i.e. how it is invested and spent—until the child reaches legal age (18 or 21 in most states) or the custodianship terminates. In these accounts, the first $950 in gains is tax-free, the second $950 is taxed at the child's income tax rate and the rest is taxed at the parent's income tax rate, according to the IRS.
If decide to use a UGMA or UTMA custodial account, you should note that it may affect the amount of financial aid your child receives because the account is in your child's name. Additionally, you'll have less control over how your child decides to use the money. You can't legally stop your child from using the money to buy a Ferrari once she takes control of the account if she decides not to go to college.
3. Coverdell Education Savings Account
This is another type of trust or custodial account you can use to help pay for your child's college education. You set up the Coverdell and decide how to invest the money. The maximum annual contribution is $2,000 per child. That means if you open a Coverdell for your son and your father opens one for your son as well, you can each contribute $1,000 a year. To contribute to a Coverdell ESA, your modified adjusted gross income must be less than $110,000 as a single filer or $220,000 as a married couple filing jointly.
Coverdell contributions are not deductible, and contributions must be made before the beneficiary reaches age 18. Withdrawals are tax-free at the federal level (and in most cases at the state level) as long as the proceeds are used to pay for qualified educational expenses, including tuition, books, supplies, uniforms, room and board, computer equipment, and internet service. If the money is used for non-qualified expenses, you'll have to pay taxes as well as a 10 percent penalty on earnings.
Written by Linda Rosencrance. The views expressed herein are not intended to serve as a forecast, a guarantee of future results, investment recommendations or an offer to buy or sell securities by FutureAdvisor. Differences in account size, timing of transactions and market conditions prevailing at the time of investment may lead to different results, and clients may lose money. Past performance is not indicative of future results.
More From Personal Finance Cheat Sheet: